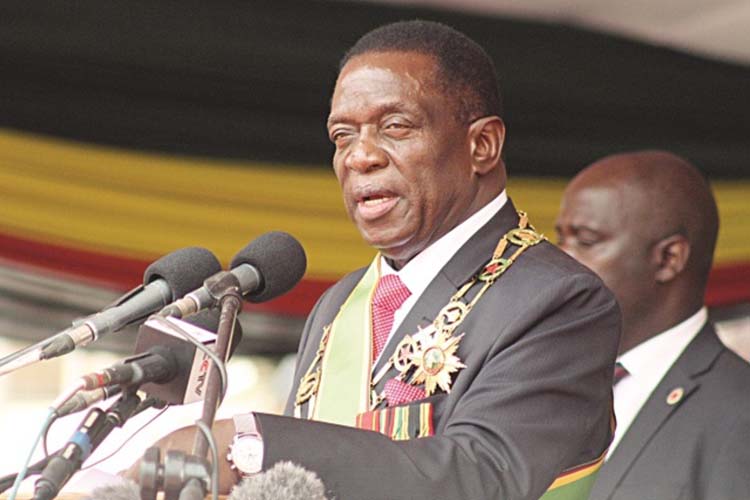 The ManicaPost
Kudzanai Gerede Business Correspondent
Economic analysts have hailed the tone set by President Emmerson Mnangagwa that hinges upon fiscal consolidation and strict adherence to sound corporate governance as central to the renaissance of the country's economy.
This also comes on the backdrop of a three month moratorium for individuals and corporates who illegally externalised money and assets to bring back the funds and asset to the Reserve Bank of Zimbabwe without questions asked as Government seeks to restructure economic fundamentals.
The country is going through cash shortages arising from excessive externalisation of the United States dollar currency by unscrupulous business players since the adoption of the multi-currency system in 2009. It is estimated US$ 5 billion has been externalised.
Bonds notes have also been externalised to neighbouring countries and being traded on the black market despite the currency being legally recognised in Zimbabwe alone.
Analysts have welcomed the development as positive for the economy and likely to improve liquidity at the same time commending fiscal consolidation measures which are more pressing to spur the economy forward.
Fiscal consolidation entails a reduction in government deficits and debt accumulation through formulation of a wide range of interventions that improve revenue realisation and cutting on expenditure.
The poor state of public finances strongly requires cutting of public expenditure in the interim in order to narrow Government fiscal deficit to sustainable levels and restrict public debt so as to pave space for developmental capital.
Government has been consuming over 90 percent of revenue in recurrent expenditure with the majority of it going to employment costs. Addressing permanent secretaries at his Munhumutapa offices on Tuesday this week, President Mnangagwa stressed the need for more proactive stance towards austerity with regards to Government restructuring.
"I am currently in the process of putting together a new Government structure which should be essentially leaner. This of course will entail merging of some line ministries in order to remove functional duplications as well as contain unnecessary expenditure so as to enhance productivity and efficient delivery of service," he said.
Analysts have been critical of the country's bloated cabinet under former President Robert Mugabe of over 30 ministers which in some cases duplicated roles and functions in Government, all feeding from a paltry fiscal budget.
"Narrowing fiscal deficits in the current context will be a giant leap for the economy as this will cut on annual accumulation of public debt which has reached very toxic levels," an economist, Mr Kipson Gundani told Post Business.
"The President was clear that there will be a restructuring of Government structures to cut unnecessary costs and if this is intensively done, we are likely to see even ailing parastatals and state enterprises start to fully operate at a profit. This has massive multiplier effects on the entire economy," he added.
The President further bemoaned the amount of red tape existing within Government departments which were a detriment to investment attraction and quality service delivery and assured measures will be taken in ensure efficiency within the public sector, especially at a time the country was implementing ease of doing business reforms to improve the economy's competitiveness.
"Improving efficiency within Government should be enough to improve our competitiveness index, which is critical for investor perception. We need investors to start business without going through cumbersome government procedures. This has been our major problem as an investment destination," said competitiveness expert Dr Gift Mugano.