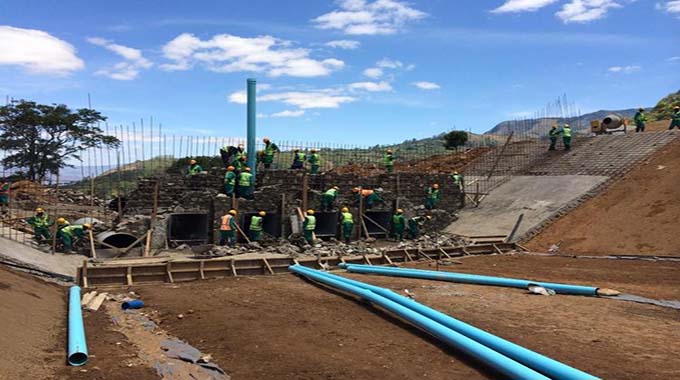 The ManicaPost
Ray Bande Senior Reporter
AVAILABILITY of infrastructural services or lack thereof is a major area of concern for communities and businesses around the world.
Unreliable electricity supply and high tariffs can be hurdles to entrepreneurial activity in any given area.
According to the 2017 World Bank Enterprise Survey data for 136 economies, business owners find electricity services as the fourth biggest obstacles to their activities and this places into context the importance of electricity to business.
It is against this background that Nyangani Renewable Energy (Pvt) Ltd, which has pioneered several hydro power stations in Mutasa, has become a force in mitigating power shortages in the province.
The environmentally friendly power generation processes involved in the hydro power process in Mutasa make the initiative desirable and praiseworthy.
For example, the Pungwe B Hydroelectric Power project diverts water from the Pungwe River, via a diversion structure, into a conveyance canal and a small capacity head pond. From the head pond the water enters a penstock which feeds it to a turbine driving a generator producing electric power at 33KV.
The power is then fed into the national grid.
The return flow from the turbine feeds directly back into the Pungwe River some two kilometres downstream from where it was diverted. Crucially, this is carried out at no environmental cost.
NRE is a Zimbabwean company formed to develop hydroelectric power run-off-river schemes in the Nyangani areas of eastern Zimbabwe.
Since its formation in 2007, the company has built Nyamingura Power Station (1100kw) on the Nyamingura River (commissioned in 2010), Pungwe A Power Station (2725kw) on Nyamombe River (commissioned in 2012), Duru Power Station (2200kw) scheme on the Duru River (commissioned in 2013), Pungwe B Power Station (1500kw scheme) on the Pungwe River (commissioned in 2014), Pungwe C Power Station (3750kw) on the Chiteme River (commissioned 2016), Hauna Power Station (2100kw) on the Ngarura River (commissioned in 2017) and the Riverside Solar Power Station (2500kw solar PV project) in Mutoko.
The Pungwe B Power Station, a $30 million, 15mw run-off river mini hydro electric power station in the Honde Valley is now fully operational.
Its construction commenced in July 2013 and the first units were delivering power to the national grid by November 2014.
The Tsanga cascade project — a three power station hydro project on the Tsanga River — is currently under construction.
Mutasa Rural District Council chief executive officer Mr George Bandure commended the hydro power generation initiatives saying business, education and health sectors have been the biggest beneficiaries.
"The establishment of hydro power plants in Mutasa district by Nyangani Renewable Energy is indeed a very welcome development. Such initiatives by independent power producers help argument the national energy expansion trajectory. Our schools, clinics and the business community can now access electricity easily.
"Even here at Mutasa District service centre we no longer have the challenge of trying to reach out to the national control centre in times of power shortages. Therefore, this is a welcome development that should be promoted and supported by all progressive citizens," he said.
Mr Mike Machuwaire, senior employee at Eastern Highlands Tea Estate in Honde Valley said the power generation initiatives in the area have greatly assisted operations at the giant tea and coffee producing concern.
"We used to have power challenges before the introduction of these power generation stations in this area. In fact, when Nyamhingura Power Station was first established we could see an improvement in the supply of power.
"The company requires uninterrupted power supply hence the generation of power in this area has boosted production levels within the company," he said.
Mrs Sylvia Dube, a local teacher, said students were getting more study time owing to availability of uninterrupted electricity.
"We had problems in the past, but things have changed since the beginning of uninterrupted electricity supply. Our students can now have their studies way into the night without any challenges. Lack of aggressive construction and subsequent operation of power generation stations in the area have been the missing links in the developmental path of this area," she said.
These power generation schemes have been designed to generate electricity for sale into the national grid under Power Purchase Agreements (PPAs) agreed with ZESA and approved by the Zimbabwe Energy Regulatory Authority (ZERA).
In essence, the hydro-electricity projects in Honde Valley have put a lid on the perennial power problems in some parts of Manicaland as investors and the community expressed confidence in "go green" initiative.
Honde Valley is a mountainous area vested with thick woodlands and several water sources. The thick woodlands have been under siege from the surrounding community as people randomly chop down trees for firewood.
The indiscriminate cutting down of trees adversely affected the water sources by promoting siltation and erosion.
In the face of these adverse effects and persistent power cuts blighting the country, Ngangani Renewable Energy (Pvt) Ltd initiated hydro-electricity projects around Honde Valley.
For example, the Nyamhingura Hydro Power Station generates enough energy to service the whole Eastern Highlands Estate, Zindi and Segambe Growth Points and Mapokana Business Centre.
Environmental Management Agency (EMA) is on record saying it supported the hydro-electricity projects that are sustainable.
"This is a true example of going green. The power is renewable and it is environmental friendly," said EMA provincial manager Mr Kingstone Chitotombe.
"There are minimal adverse effects in hydro power than in any other source of energy. If we have more of these projects it translates to a successful story in the 'go green' initiative. This project saves our trees which are usually substituted for energy," he said.
Nyangani managing director Ian McKersie said the terrain and environment in Honde Valley was suitable for power projects.
He described the 'go green' initiative as the best source of energy.
"This is a government policy to promote the go green initiative. Hydro-electric power is green and popular because it is renewable," said McKersie during a tour of the projects.
One of workers, Mr Jeremiah Mareka (63), said: "The company has helped us through employment and infrastructure. They have built schools around here and we now have some money to look after our families."
Another villager Mr Lameck Mbirira from Kashiri village said: "The road network was bad, but we are so happy it is being regularly maintained because of this project. We are also happy that our village has been electrified."
However, the number of customers served by the mini-hydroelectric power stations could not be verified.
Employment creation is also one key benefit that comes with construction of the power stations to the surrounding community.
At the peak of construction, about 500 people were recruited from the surrounding communities.
Nonetheless, there are some challenges like being faced by these NRE power generation initiatives, which include, but not limited foreign currency shortages to meet foreign loan commitments.