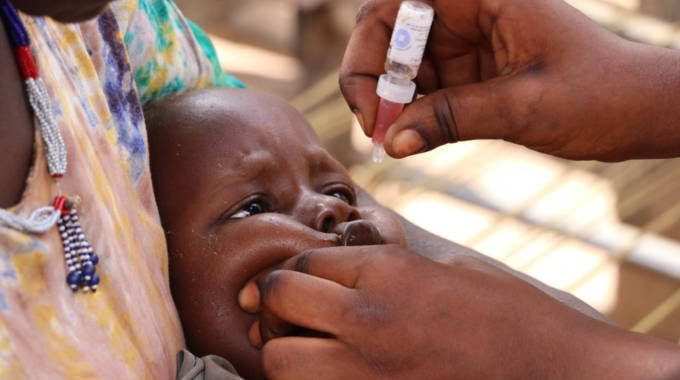 The ManicaPost
Tendai Gukutikwa
Post Reporter
THE Ministry of Health and Child Care will conduct an immunisation blitz against polio in the coming weeks following a wild poliovirus type 1 outbreak reported in Mozambique and Malawi recently.
In an interview with The Manica Post, Manicaland Provincial Health Promotion Officer, Mrs Agnes Mugumbate said the mass vaccination will run from July 7 to 10, targetting children aged between zero and 59 months.
She said they will conduct door-to-door campaigns to raise awareness on the vaccination programme.
Vaccination will be done at local clinics and hospitals.
"No one will be left behind as mobile clinics will be deployed to the remotest parts of the country. We will also be doing door-to-door campaigns to raise awareness of the disease that has been reported in the two neighbouring countries," she said.
She said the virus has not been detected in the country, adding that the precautionary measure will ensure its prevention.
"Neighbouring countries like Malawi and Zambia are also carrying out similar exercises in synchronisation with Mozambique," she said.
She urged parents to have their children vaccinated while keeping an eye on the virus' symptoms.
Polio symptoms include fever, sore throat, headache, vomiting, fatigue, back pain and stiffness, neck pain or stiffness and pain in the arms and legs.
The disease also affects the spinal cord with one in 200 infections leading to muscle weakness and paralysis.
"It is important that parents keep track of their children's health and if they show any symptoms that resembles those of Covid-19, they should immediately take them to their nearest clinic or hospital for treatment.
"We are urging parents to take heed of the vaccination blitz and have their children immunised against polio so that they are protected from the virus," said Mrs Mugumbate.
In a recent statement released by the World Health Organisation, Mozambique has already carried out two mass vaccination campaigns in response to the Malawi outbreak, with 4,2 million children vaccinated.
Efforts are underway to help strengthen disease surveillance in Malawi, Mozambique, Tanzania, Zambia and Zimbabwe.
The five countries will continue with mass vaccinations, with plans to vaccinate 23 million children aged five years and below in the coming weeks.
Polio is highly infectious and largely affects children younger than five years.
There is no cure for polio, and it can only be prevented by immunisation.