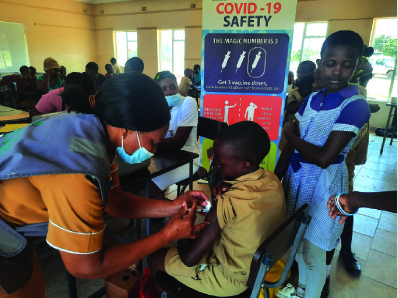 The ManicaPost
Tendai Gukutikwa
Post Reporter
THE Ministry of Health and Child Care will roll out an immunisation blitz against polio in the coming weeks following the disease's outbreak in neighbouring countries.
In an interview on the sidelines of an advocacy meeting for provincial stakeholders last week, Manicaland Provincial Health Promotion Officer, Mrs Agnes Mugumbate said the mass vaccination campaign will be implemented in two phases, with the first phase running from October 27 to 30 and targeting children aged between zero and 59 months.
The meeting was meant to sensitise stakeholders on the polio campaign.
The children will receive the first dose of the polio vaccine during the first phase, with the second dose scheduled to be administered during the second phase from December 1 to 4.
She said Manicaland is at risk because of its proximity to neighbouring Mozambique where a wild poliovirus type 1 outbreak was recently reported.
The outbreak was first reported in Malawi.
"We have about 745km which borders with Mozambique within most of our districts in Manicaland and these include Nyanga, Mutasa, Mutare, Chipinge and Chimanimani. The official border is a few kilometres from Mutare and this means one can easily contract the disease from Mozambique and transport it to Zimbabwe where it will spread.
"We are responding to the disease in this way because of the outbreak that was reported in Tete Province of Mozambique. This means that as Manicaland, we are at risk," she said.
Mrs Mugumbate said there is need to raise awareness on the importance of polio vaccination.
"We encourage parents with children below the ages of five to take advantage of the vaccination programme and have their children vaccinated so that they may be protected against the disease," she said.
Mrs Mugumbate said door-to-door campaigns to raise awareness on the vaccination programme were recently conducted.
Vaccination will be done at local clinics and hospitals.
"No one will be left behind as mobile clinics will be deployed to the remotest parts of the country," she said.
Mrs Mugumbate said the virus is yet to be detected in Zimbabwe, adding that the precautionary measures will ensure its prevention.
"Stakeholders have shown commitment in raising awareness on the issue and some have pledged to donate fuel so that the teams will reach all areas, even the remotest parts of Manicaland," she said.
She urged parents to keep an eye on the virus' symptoms.
"This disease is dangerous and we are appealing to those who do not believe in seeking medical assistance to reconsider their decision as they risk losing their children to the deadly disease. If one child contracts polio, he or she will be contagious and might spread it to up to 200 other children," said Mrs Mugumbate.
She said the disease's symptoms include sudden paralysis which will result in inability to walk or crawl.
Other polio symptoms are similar to those of Covid-19 as a patient gets a fever, sore throat, headache, vomiting, fatigue, back pain and stiffness, neck pain or stiffness and pain in the arms and legs.
The disease also affects the spinal cord, with one in 200 infections leading to muscle weakness and paralysis.
Globally, wild poliovirus is endemic only in Afghanistan and Pakistan.
Polio is highly infectious and largely affects children younger than five years.
There is no cure for polio, but it is prevented through immunisation.