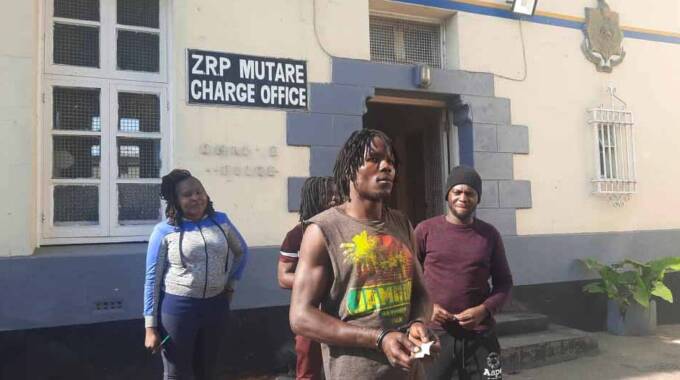 The ManicaPost
Tendai Gukutikwa
Post Reporter
POLICE in Manicaland have stepped up efforts to enforce the 'See something and say something' campaign which seeks to fight drug peddling and drug abuse in the province.
Provincial police spokesperson, Inspector Nobert Muzondo said the campaign resulted in the arrest of a notorious Sakubva drug peddler.
Nilence Mhako (25) who operated from Devonshire, Sakubva, was arrested after being found in possession of two kilogrammes of dagga and a sachet of crystal methamphetamine, popularly known as mutoriro.
When the police swooped on him, Mhako became violent and tried to resist arrest.
Six warning shots had to be fired by detectives from the Mutare Criminal Investigations Department (CID)' Drugs and Narcotics Unit before they could arrest him.
"We confirm the arrest of Nilence Mhako of Devonshire, Sakubva. The Mutare CID Drugs and Narcotics Unit received information that Mhako was peddling drugs.
"They reacted to the information by raiding Mhako's residence. However, Mhako fiercely resisted arrest and fled.
"The following day, the officers regrouped and went back to Mhako's residence where they found him preparing a twist of dagga. After the detectives identified themselves, he tried to evade arrest again and fiercely fought the detectives.
"He was only subdued by the six warning shots that were fired by the police. That is how he was arrested. We recovered two kilogrammes of dagga and one sachet of crystal meth from Mhako's place.
"As the police, we continue raiding drug peddlers' havens and confiscating the drugs and substances," said Inspector Muzondo.
The police provincial spokesperson said the 'See something and say something' campaign has been running since the beginning of the year.
"We have been alert and fighting drug abuse since the beginning of the year. As the police, we have increased our crackdown on drugs.
"We appeal to the public to continue cooperating with us in exposing drug dealers and their hide-outs so that we stop this scourge that is affecting the youths," said Inspector Muzondo.
"So far, the campaign has been successful and the number of arrests keep rising every day as we remain dedicated to fighting drug abuse," he said.
"We would like to thank members of the public for their continued cooperation with the Zimbabwe Republic Police. We are working tirelessly to ensure that we fight against the drugs menace, especially targeting those dealing in drugs.
"Those with information must pass it to any nearest police station for further investigations and arrests," he said.