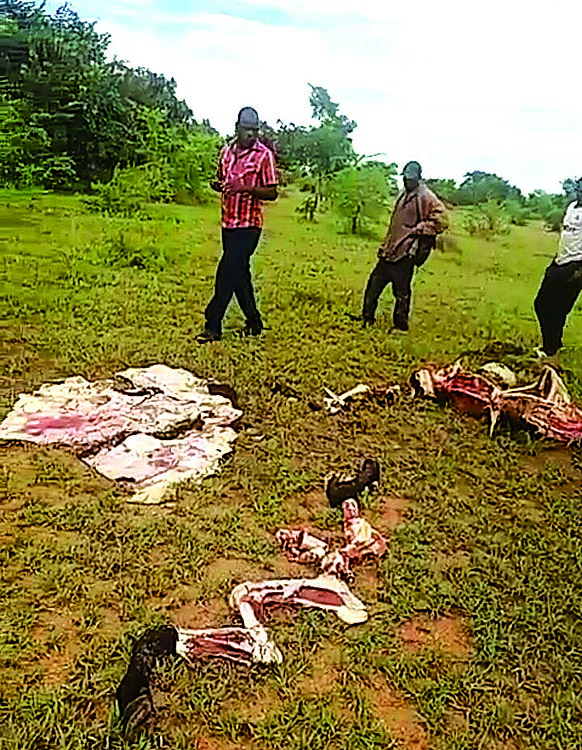 The ManicaPost
Samuel Kadungure Senior Reporter
POLICE in Rusape have busted a notorious cattle rustling syndicate that wrecked havoc in farming communities around the town after arresting its suspected ring leader, Tigere Chipomho.
Chipomho (23), of Mavhawani Village, under Headman Dzvairo was arrested last week and confessed to stealing cattle and de-boning the carcases before selling steak meat to restaurants in Chitungwiza. Cattle rustling had become a serious problem in Rusape and Chipomho's arrest was a major breakthrough in tackling the rising vice as it is expected to clear numerous outstanding cases.
Until his arrest, hardly a day would go without livestock farmers experiencing the horrors perpetrated by his gang. Cattle rustling had become a lucrative activity amid reports that the criminals were invading and raiding unsuspecting communities, slaughtering cattle almost on nightly basis.
Manicaland police spokesperson Inspector Tavhiringwa Kakohwa said the net was closing in on Chipomho's accomplices who were still at large.
Chipomho appeared before Rusape magistrate Ms Patience Ururu-Madondo facing five stock theft charges as defined in Section 114 (2) (a) of the Criminal Law (Codification and Reform) Act Chapter 9:23. He was remanded in custody.
Insp Kakohwa said Chipomho was still assisting police with investigations on other outstanding cases. He also appealed for additional details on the outstanding members of the racket.
"Rustling activities have resulted in the disappearance of a huge number of cattle in farming communities around Rusape, and Tigere Chipomho's interrogations are not limited to the five cases he has confessed to. He is still being interrogated on many other cases," he said.
The Manica Post has established that the rustlers always moved around with all sorts of weapons posing a serious danger to ordinary herdsmen who confronted them.
Police have also warned butchery, restaurants operators and the public not to buy beef products from unscrupulous suppliers.
Chipomho's gang would drive cattle from kraals at night to secluded thickets where they would slaughter and de-bone the carcasses.
The gang allegedly used elastic to gag the beasts from making noise during slaughter and used big knives for skinning and deboning as evidenced by two big knives left at the scene in Dzvairo. The rustlers only took steak, tongues and livers from the cattle leaving the bones, heads, legs and offals in situ.
The meat was being sold on the false pretext that it was from an abattoir
"The arrest of Tigere Chipomho is a major breakthrough, though some of the accomplices are still at large. He has so far confessed to five charges of stock theft in which he masterminded theft of beasts belonging to Mr Simon Rugombiro (53), Mr Phillip Ngarara (36) and Mrs Esteri Chishure (40), all of Toto village, Rusape; Mrs Mediah Mavhawani (59), of Mavhawani village and Mr Lameck Mutauri (71), of Mawuku village.
"We picked information that each time Chipomho was spotted in his rural home he would not report home and rustling activities would be reported the following day. A crack team was set up to tackle the rising cases of stock theft and apprehended him in Chitungwiza," said Insp Kakohwa.
Insp Kakohwa said they searched his Chitungwiza house and recovered a small sharp axe, two big knives, a rope and a bag full of blood stained plastic packs.
"After interrogations, Chipomho confessed and voluntarily made indications at each of the aforementioned complainants' homesteads and he implicated other accomplices who are still at large," said Insp Kakohwa.
A video clip chronicling the nefarious activities of the gang has gone viral in Rusape with villagers describing suspects as evil people who must be punished.
"They killed my white Brahman bull, surely these people are evil. They have destroyed me. All have worked for all these years has gone just like that. Surely these criminals must rot in jail," said one villager.
Another villager is heard saying the rustlers were being led by someone with vast knowledge of the area.
"How did they know about this thicket? Obviously they were being led by someone from this area," said the other villager..