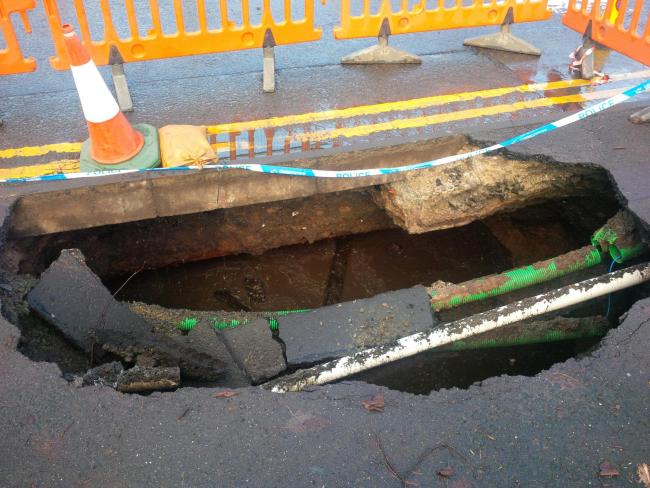 The ManicaPost
Sharon Chigeza Post Correspondent
A SECTION of the road linking Penhalonga to Mutare and its immediate environs are facing the danger of collapsing into illegal mine shafts that are fast approaching its shoulders, igniting anxious moments among residents who fear for the worst, as the rainy season approaches.
Spurred by a belief that rich unexploited gold claims are lying along Mutare River, gold panners have dug their way through to the foundations of the tarred road leading from town into Penhalonga close to Penhalonga Police station.
Residents fear that if not stopped, the mining activities might lead to the collapse of the road when the rains come.
A licensed artisanal miner, Cresenzia Chimwanengara, who operates in Old Mutare, but lives in Penhalonga, blamed the illegal miners for environmental degradation and the looming threat to human life itself.
"I am worried by their total disregard for life and the environment. The environment is suffering because of their negligence, as no efforts have been made to fill the huge pits or even cordon the shafts some of which are filled with water," Chimwanengara said.
Chimwanengara also revealed that she was a member of an environment advocacy group, which had submitted reports and complaints concerning the environmental destruction to the Environmental Management Authority (EMA) and Mutasa Rural District Council, but had received no response.
Her story is shared by many residents in Penhalonga. They accuse the artisanal gold miners of abandoning pits, shafts and tunnels without reclaiming or securing them, which endangers the lives of both humans and animals.
EMA Manicaland provincial manager, Mr Kingston Chitotombe acknowledged the presence of widespread illegal gold mining activities in the Penhalonga area and the dangers associated with the disused mine shafts and pits.
"As an agency we are aware of the widespread presence of such activities in the area with the DTZ-Ozgeo Farm and Africa University as the major hotspots.
"We have engaged stakeholders and relevant authorities such as Joint Operations Command (JOC) and the Zimbabwe Republic Police (ZRP) on arrests and regulation of the activities in the area," said Mr Chitotombe.
He said their mission was to regulate, monitor and promote sustainable management of natural resources while protecting the environment with stakeholder participation hence could not issue arrests on such activities.
"We are a regulatory body and our hands are tied on the issuing of arrest warrants. That is the mandate of stakeholders such as the police to make arrests upon the submission of reports to our office before being handed over to the police," he said.
He, however, professed ignorance of the activities that are threatening the tarred road and its environs adding that his office had not yet received such reports.