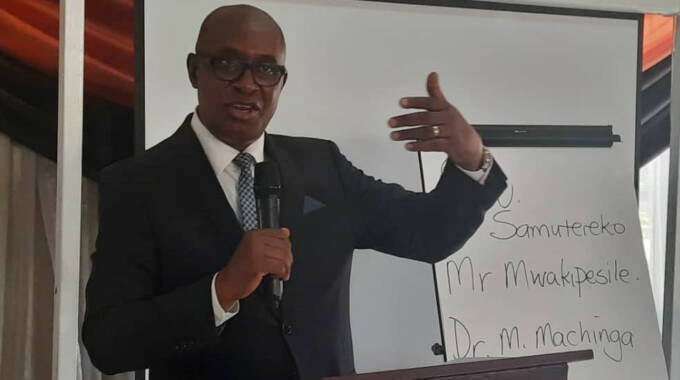 The ManicaPost
Ray Bande
Senior Reporter
THE Peace Committee in Manicaland, an initiative of the National Peace and Reconciliation Commission (NPRC),that is made up of political parties, security, religious and civic organisations, is rolling up its sleeves to ensure that the prevailing peaceful environment continues during and after the forthcoming harmonised elections.
A peaceful environment is prevailing in Manicaland since the onset of the current elections season.
In an interview on the sidelines of a meeting held at a Mutare hotel this week, NPRC spokesperson, Commissioner Advocate Obert Gutu said peace committees are critical organs in peace building as they encompass all stakeholders.
"Peace committees have been set up across the country. We are holding stakeholders' meetings aimed at oiling our machinery as we head towards the harmonised elections.
"Peace committees are critical organs in our peace building initiatives. They encompass all stakeholders, including the State actors, that is the police, city councils, Government departments, non-State actors that include civic organisations, academia and all other stakeholders. They all play a critical role to ensure that peace prevails," he said.
Commissioner Gutu said Zimbabweans have to take ownership of the peace building processes.
"The whole idea is to ensure that Zimbabweans own the peace building process. It has to be a bottom up approach. We want the people of Zimbabwe to own the process. As the NPRC, we accept that we do not have a monopoly of knowledge over the peace building initiatives.
"Youth, religious and political organisations are all critical. The inclusion of all stakeholders is deliberate and is meant to ensure that every Zimbabwean own the process. President Mnangagwa even pointed out that let us have a Zimbabwe where we all embrace each other. All Zimbabweans, wherever they are, have a role to play in building a peaceful Zimbabwe," he said.
Commissioner Gutu said peace is an important tool for the country's development and attainment of its goals.
"As a country, we have the capacity to achieve Vision 2030. We can even achieve that before 2030, but we should have peace for us to achieve that.
"There cannot be any development where there is no peace. There is no social economic development where there is no peace," said Commissioner Gutu.
He also commended the prevailing peaceful environment in the country and expressed hope that the situation will prevail throughout the elections season.
"We are generally happy that we are enjoying peace in the country. Zimbabweans are a generally peace loving nation. Of course, like any other country, you get skirmishes here and there, but I believe that when you compare us with other countries, even here in the SADC region, we are better off.
"We have police officers who move around unarmed, but they are respected, simply because they are an authority.
"As Zimbabweans, we have a tendency of under-appreciating ourselves. Yes, we have our challenges, but the peaceful environment should be celebrated," said Commissioner Gutu.
He urged political leaders to shun hate speech and inciting violence.
"Let me take this opportunity to call upon all political actors, political leaders themselves, supporters and sympathisers, to preach the message of peace and tolerance.
"We have entered the elections season and what we say at rallies, social media or private meetings as political leaders can easily incite violence. We should desist from inciting slogans. Supporters normally take a cue from the leaders, hence the special message to political leaders is that they can win the elections by being peaceful," said Commissioner Gutu.
He also called on Zimbabweans to shun self-hate.
"We have individuals who want to paint a picture that everything is very bad and not working in Zimbabwe. They are happy to hear that there are no beds in hospitals in Zimbabwe, which excites them.
"They get angry when they hear news of major roads being refurbished in Zimbabwe. As NPRC, we are saying when we have challenges as a nation, let us sit down and talk. We do not need to go out, burn tyres and embark on all sorts of violent activities," he said.
Speaking on some of the conflicts handles by the NPRC in Manicaland, Commissioner Gutu said: "We handled a conflict in Chisumbanje which was between about 4 000 villagers and a local investor, GreenFuel. We did our job and made recommendations to the relevant authorities.
"The same applies to the Marange area where people who were relocated from the diamond mining area had some complaints. The good thing about conflicts reported in Manicaland is that they were not about politics, they had to do with resources," he said.
Commissioner Dr Golden Chekenyere chairs the Manicaland Peace Committee, while Dr Mazvita Machinga and Reverend Edmond Samutereko are co-vice chairpersons.
Other members are drawn from different sectors, including academia, civic society, women and youth organisations, Government departments, local authorities, war veterans, church, persons with disabilities, media, traditional leaders, political parties and the police.