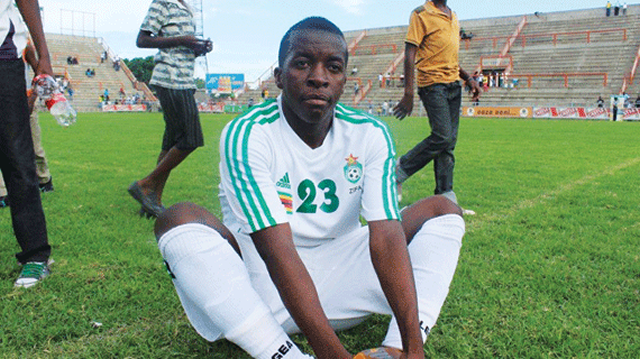 The ManicaPost
Ray Bande Senior Sports Reporter
DIMUNITIVE, yet agile midfielder, Pasca Manhanga, if he passes a late fitness test will make a sensational return to Sakubva Stadium on Sunday when How Mine entertains bankrupt Mutare City Rovers in a Castle Lager Premiership league encounter. The gifted midfield maestro picked a knee injury in a league match pitting How Mine and Triangle which his team won 2-0 last weekend.
He started light training sessions early this week.
Manhanga, a former Bhafalo Hardware and Mutare United player was born and raised in the dusty streets of Sakubva well before his talismanic instincts charmed Zambian gaffer, Kelvin Kaindu.
The youngster has since turned into one of Kaindu's most trusted players, with the Zambian expatriate moving with the midfielder at each club he coaches – from Highlanders to Triangle and now How Mine.
And come Sunday, Manhanga will take to the field of play against his home side, Mutare City Rovers in How Mine colours again under the tutelage of Kaindu.
"I am not sure whether I will make it, but there are chances that I can. It is one match I would have loved to feature given that I am quite familiar with some of the players and the environment. However, it rests with the coaches and the medical experts at the club," said Manhanga in a telephone interview on Wednesday.
However, Sunday's home encounter presents an opportunity for Mutare City Rovers to endear themselves with local fans by posting a positive result that boost morale in the camp.
Winning against How Mine on Sunday will obviously be a build up from last week's impressive away result against Border Strikers.
But given the in-house challenges that Gusha Bhora are facing, it could be yet another Mission Impossible for them.
The fact that How Mine are no mere pushovers with experienced players within their ranks like Charles Sibanda and Kuda Musharu among others only helps to make the situation more complicated for City Rovers.
How Mine opened their Castle Lager Premiership season account with a two-all stalemate against newboys, Bulawayo Chiefs before dismissing ZPC Kariba 2-0.
The Kevin Kaindu-coached club then settled for a goalless draw against champions, Chicken Inn and a week later thumped Triangle 2-0.
Mutare City Rovers coach, Taku Shariwa, who is still basking in the glory of a maiden league triumph after his team beat hapless Border Strikers 1-0 last weekend, reckons it will not be a stroll in the park to get three point against How Mine.
"The away victory was a relief for the club, the players and the fans who have been supporting us when results were not coming our way as well as us as coaches.
"It is indeed a morale booster, but at the same time we have a job to do looking into the future. We have three tough matches ahead of us. We are taking on How Mine, ZPC Kariba and then Chicken Inn.
"This is a daunting task by any measure," said Shariwa.
The former Hippo Valley and Hartley Academy gaffer said it would be extremely difficult for them to get the results they want given the financial challenges facing his club.
"How Mine are not an easy team to beat. They are unpredictable and can beat any team in the Premiership at any time.
"They have quite an experienced and respected coach in Kevin Kaindu. They also have good players within their ranks such as Charles Sibanda, Kuda Musharu and Pasca Manhanga among many others. These are players who can make a difference at any time.
"However, that will not stop us from hunting for maximum points, although it will be extremely difficult for us given the financial challenges at our club.
"It is a fact the world-over that players are motivated by money and we are not an exception. But when there is no money like in our situation, the passion keeps us going. At the end of the day, it will be about our careers.
"It is about my career as a coach and it is also about the career of the players. They will be playing to be spotted and move to a better paying club at the earliest opportunity," said Shariwa.
While Shariwa seems to have done all that he could to prove that he is equal to the task, masterminding a clear improvement in the City Rovers' style of play since he came in as head coach, there is little that the youthful gaffer can do when he is left to work with disgruntled players.
Judging by the low morale within the Mutare City Rovers camp, not even the highly regarded coaches from the world's best funded leagues would get a result at the helm of Mutare City Rovers, let alone a promising Shariwa.