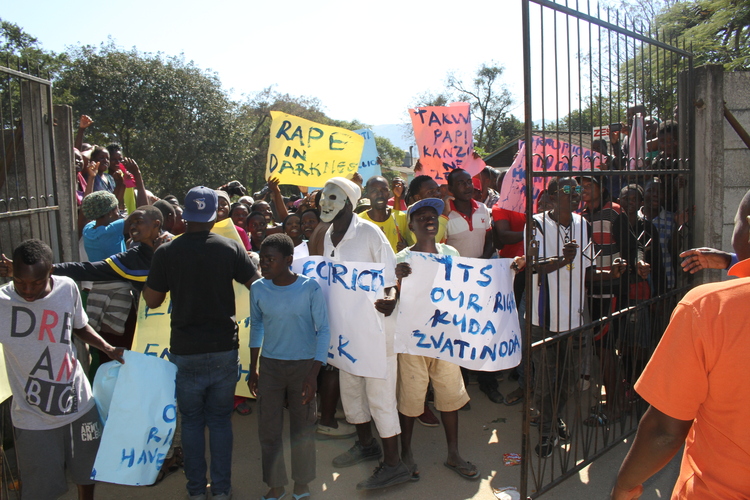 The ManicaPost
Sharon Chigeza Post Correspondent
SAKUBVA residents yesterday took to the streets to protest against power disconnections by the Zimbabwe Electricity Supply Authority (Zesa) and compel Mutare City to pay a debt of over $2 million.
The residents from Matida, Blocks, Maonde, Chimoio flats and Green market have been living in the dark for the past two weeks.
They pay their electricity bills to city council since most of the properties do not have electricity meters. The municipality should then remit the money to Zesa, a responsibility that has allegedly been abdicated, resulting in the debt ballooning to over $2 million.
In an interview with The Manica Post, representatives of the affected residents were furious about the neglect and had petitioned the municipality for recourse. The residents barricaded the Moffat Hall council offices demanding an audience with the Town Clerk Mr Joshua Maligwa.
Mr Thomas Musiyarira, of Matida flats had this to say: "Electricity was cut off last Tuesday at around 3pm in a development that took us by surprise as we had not been advised about it in advance. On Wednesday, we approached council but failed to get any solace.
A junior council official then advised us that we owe Zesa close to a million dollars a result of non-remission by the city council".
Ms Susan Lifa, also of Matida Flats said the residents were religiously paying their dues to the municipality hoping it would be remitted to Zesa.
"There could be some residents who have not been paying their bills to council, but the majority of us have been paying religiously, and that cannot justify the indiscriminate power disconnections. Why make those who have been paying suffer for the sins of a few irresponsible residents," said Ms Lifa.
The residents demanded that Zesa install individual metres for the residents to avoid relying on a third party.
Zesa public relations officer Mr Fullard Gwasira said the power authority had issued a warning urging defaulting clients to settle their bills by March 31, which was largely ignored by many.
"ZETDC encourage all defaulting customers to settle their bills in order to enable the power utility to provide efficient service delivery. All defaulting business consumers in the commercial, mining, industrial and farming sectors were required to make payment plans in order to clear their bills within six months to avoid the inconvenience of service being withdrawn and litigation," reads part of the statement.
Mutare City Council public relations officer Mr Spren Mutiwi said council is owed $50 million dollars by residents and rate payers and the move came while negotiations between Zesa and council were under way.
"Residents who stay in council rented houses, including the above mentioned owe the local authority at least $1 million in arrears. Council in its wisdom then and with a view to assist the community came up with highly subsidised rates which range from $21 to $28 per month per household for — rentals, water supply, refuse collection, sewage and maintenance. There is no provision for Zesa," said Mr Mutiwi, adding that many were not paying.
"For Maonde Flats Zesa is requesting payment of $528.549.72 while for Matida Flats Zesa wants $538 2 00. With almost nothing coming in from the residents, council cannot pump money when residents are neglecting their obligations.
"Council is billing $39 000 for its rented accommodation against monthly Zesa bills of $30.900 for the same area. While we are negotiating, we urge residents to come up with a clear payment plan and down payment in order to meet the debt. For service delivery to be effective it demands both residents and council to play their part, failure by any of the two parties …disrupts the smooth flow of service delivery," said Mr Mutiwi.