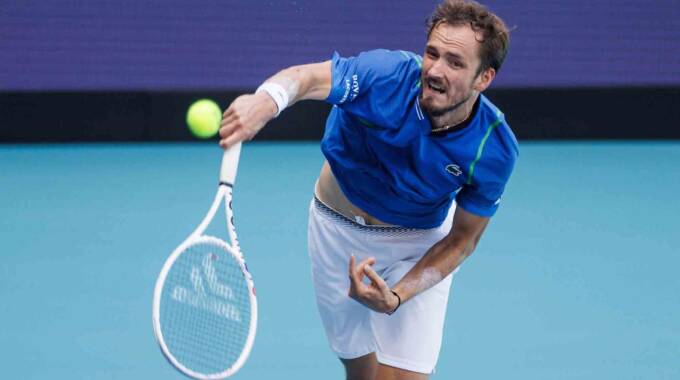 The ManicaPost
DANIIL Medvedev has revealed he struggled to see the ball during the second half of his win over Andrey Rublev in the US Open quarter-finals.
Medvedev emerged victorious 6-4 6-3 6-4 in "brutal" conditions to book a place in the semi-finals with temperatures at around 33 degrees throughout the match, plus high humidity which tested both players physically.
The roof on Arthur Ashe Stadium was half-closed but Medvedev needed the trainer twice and required the use of an inhaler to get through the match.
During the third set, Medvedev walked to an on-court camera and stated "you cannot imagine…one player is going to die".
"It was brutal. The only good thing I see in these conditions is both suffer, so it's tough for both of us," said Medvedev.
"There were some ups and downs but that's so normal. At the end of the first set, I kind of couldn't see the ball anymore! I played with sensations and tried to go for it, tried to run and tried to catch the balls. He did the same sometimes.
"Before the point I was like 'wow he can't run anymore' and I just tried hit it back and I was like 'when is he going to be tired?' But we were tired all the time. Brutal conditions and super tough to win."
Rublev was a break up in each of the three sets but Medvedev dug deep to turn things around.
The 2021 US Open champion is good friends with Rublev, who is godfather to Medvedev's daughter.
"I know he never gives up but he knows I never give up] too! A few moments in the third set, I think he was up a break two or three times and I was thinking 'at least there is this 10-minute break'. I couldn't wait to go for a cold shower," continued Medvedev.
"The thing about the cold shower, from what I heard, when you come out, you either cannot move or you feel better. I was like 'I don't care I will go for a cold shower and will see what happens'. I will go now!"
The 2021 champion later recalled an incident earlier this summer when Chinese player Wu Yibing collapsed during a match in Washington.
He said: "I could talk a lot, brutal conditions for both of us.
"I mean, I don't know if it could be seen through the camera, because we are sweating so much and use a lot of towels.
"I have no skin left on my nose here, and, like, here it's red, but it's not because of the sun so it's not like you're burned but I have no skin left."
He continued: "I just saw Andrey in the locker room and his face is very red, and it's also not because of the sun so I guess it's the same. That tells everything, like we left everything out there.
"The thing is that even if it would go further, I think we would still leave even more. Then I don't think I had anything left but if the match would go on, I would find something more.
Medvedev felt shaky as he tried to recover from the match, saying: "I'm feeling kind of okay now. I'm just pretty exhausted. Let's say, yeah, do couple of interviews here and there straightaway, and it was tough.
"I was with an ice towel there. Everything was foggy, like I couldn't see clearly. Because the match is over, so the adrenaline is not there anymore.
"So I was, like, a little bit shaky. Then I come to the locker room and that's the toughest part because you kind of want to just sit there for hours. But you know that if you do it, it's not a good recovery."
He continued: "So I sat there for, like, 10, 15 minutes, went and did a quick ice bath. Changed. Went to eat. But had, I don't know how you call it in English, when sugar blood, sugar levels go up. I started sweating, my head started turning.
"I said to my team please bring me any food. I was sitting there like this sweating like hell even with the AC on, and they brought some food and then I felt better. Yeah, that's how it is sometimes."  – Skysports.