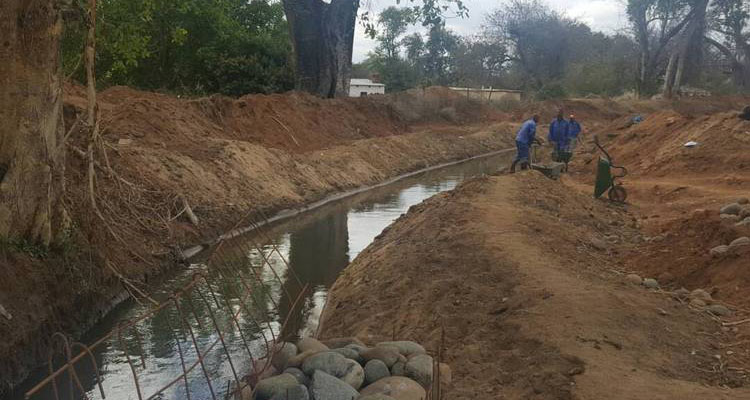 The ManicaPost
Blessing Rwizi Post Correspondent
THE Ministry of Agriculture, Mechanisation and Irrigation Development has partnered with United Nations Development Programme to rehabilitate Nyanyadzi Irrigation Scheme.
The ministry provided machinery and other services worth $400 000, while UNDP through OXFAM chipped in with $300 000. Over 721 Nyanyadzi families have started benefiting from the recently resuscitated 412-hectare Nyanyadzi Irrigation Scheme under the Scaling up Climate Change Adaption initiative.
Production at Nyanyadzi Irrigation Scheme had dropped over the past 17 years due to heavily silted canals. Work commenced in October last year and is expected to end this month.
The construction of a weir dam for water catchment up Nyanyadzi River, scooping of the storage dam which has a water carrying capacity of more than 23 000 cubic meters, de-siltation and rehabilitation of the 7.8km-long-canal stretching from the catchment area to the water storage dam, installation of nine silt traps using gabion mashes, pipe incusing, gully reclamation and setting of a 1300-meter-long water diversion drain in Chitinha area, were done during the project.
Ministry of Agriculture, Mechanisation and Irrigation Development's  Chimanimani District Technician, Mr Aaron Mwanasawani, confirmed that Nyanyadzi Irrigation Scheme was now fully functional.
"I can confirm that Nyanyadzi Irrigation Scheme is now fully functional. Water is now reaching each and every block of the irrigation scheme and we believe it will change livelihoods across the entire community.
" Farmers are already using the restored facilities. They had very good harvests in the just-ended summer season. Now they are expecting a boom in winter wheat yields since they now have enough water in their irrigation scheme," said Mr Mwanasawani.
Mr Phillip Chabuda, one of the beneficiaries, said: "Lack of funds, machinery and knowledge brought nothing, but suffering in Nyanyadzi despite having fertile soils in our irrigation schemes.
"Our canals were heavily silted and we tried so much to scoop the silt in the canals using shovels, but our efforts were in vein. This had become a dead community, but now life has been restored. I would like to thank our Government and development partners for the job well done."
OXFAM Project Manager, Dr Leonard Unganai, hailed the unity of purpose demonstrated by Government departments, development partners and the local community during the rehabilitation of Nyanyadzi Irrigation Scheme.
"This project is a success because of the unity of purpose from all stakeholders. The SCCA seeks to scale up climate change adaption measures and reduce the vulnerability of rural communities, particularly women to impacts of climate change and extreme events.
"This programme started in 2014 and is ending in October 2018. It is being funded to the tune of $4 million.
"Chimanimani District projects were allocated $1 million," said Dr Unganai.
Nyanyadzi Irrigation Scheme was developed in 1938. Over the years, maize crop yields were between 0.86-2.5 tonnes per hectare compared to a potential of 4-5 tons/ha.