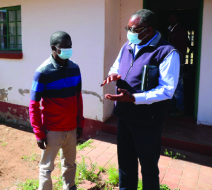 The ManicaPost
Tendai Gukutikwa
Post Correspondent
WHILE the Manyika might probably be the only known Nyanga dialect, the north-eastern Manicaland district is rich with other unique dialects, with the most popular being Hwesa, Buja and Shimanyika.
Despite the people being very particular of their different cultures and proud of their distinctive dialects and languages, the peculiar Nyanga cultures, norms and values are hardly known outside the confines of the district.
In the past, for one to have an encounter with a Hwesa or Buja, you had to travel to Nyanga or meet some people who traces their roots to the district in major cities and towns across the country by chance.
However, it is a dawn of a new era for Nyanga people as they were awarded a language-based community radio station by Government and will soon be broadcasting from their studios.
In an effort to improve access to information, freedom of information and the participation of local communities in information dissemination, Government granted three language-based community radio station licences in Manicaland, with Nyanga Community Radio Trust being one of the benefactors.
The community has since named the station after the highest mountain on the land, Nyanga Mountain, Nyangani FM.
Nyangani FM which already has employed 25 local staffers has been broadcasting on different social media platforms such as Facebook, WhatsApp and Twitter.
Members of the community interviewed by The Manica Post last week on Saturday said they would use the platform, not only to advertise the tourist destination, but its people's various cultures.
"For years, there was no fair flow of information between the people of Nyanga and the rest of the country. We actually relied on news from Radio Zimbabwe and until recently Diamond FM, but it was not such a great relationship as there was not much focus on Nyanga," said a Nyanga resident, Ms Charity Katerere.
Another resident, Mr Francis Mutonhodza, said the community radio station is an empowerment tool that should be used as an opportunity for the Nyanga community to unpack national dialogues and events in their own cultures.
"With the radio station, we will be able to unpack what is happening at national level using our own languages and interpreting it within our own cultures. This is an opportunity where our cultures will be promoted. We have cultural potential in Nyanga, but we just did not have the tools to share our cultures with the world. We are glad that now that we have the station. We will penetrate the market with full force. The country has to be live to what makes Nyanga tick," he said.
A vendor, Ms Shelly Mupango, said they were glad that the station had created employment for youths.
"We are also glad that it is mostly youths who have been employed by the station. We hope that with the Trust's leadership, they will be equipped with the necessary skills on how to unpack national dialogues in a way that we understand as Nyanga natives," she said.
Speaking during a tour of the Nyangani Community Radio Station last week on Saturday, Chief Director of Government Programmes and Messaging in the Information, Publicity and Broadcasting Services Ministry, Mr Jonathan Gandari said the platform should be utilised to the benefit of the community.
He urged the Nyanga community to take advantage of the community radio station licence that Government awarded to them and use it as a platform to preserve their unique cultures, while imparting cultural information to the world.
"Use these platforms to advertise your cultures. Let people out there know what Nyanga is made of. Find a market beyond the confines of our national borders and penetrate it with your unique cultures.
"Educate your children on their cultures through these platforms," he said.
He also said community radio stations are enablers of freedom of information and access to information.
"You should be free to impart and access information. You no longer have to wait for big media houses to come to gather and disseminate news about your cultures in your areas. Since you now have your own radio station, the flow of information will be different from yesteryears as you should also be distributing content to big media houses like ZBC and Zimpapers.
"We already have the Freedom of Information and Access to Information Act that is a key enabler in the granting of community radio licences to remote communities like yours. Continue making use of the country's legislations and see to it that your communities are well informed," he said.
Mr Gadhari had a two-day tour of Chimanimani and Nyanga community radio stations to assess their progress in terms of preparedness to start broadcasting.
Nyanga Community Radio Trust Chairperson, Mr Willy Dhlahora said they will utilise the station and help to interrogate topical issues as well as doing away with the peddling of false news.
"We will see to it that big stations like Diamond FM and Radio Zimbabwe will give us a lot of guidance towards the progression of our station in its infant stage," he said.
He said the studio equipment has already been donated to them by a partner and is in the custody of the Broadcasting Authority of Zimbabwe until they finish renovating the building that will house the radio station.
"The equipment will be installed, commissioned and launched as soon as we are done with renovations of the building. Work on the building is now 95 percent complete, but we are already broadcasting online," he said.