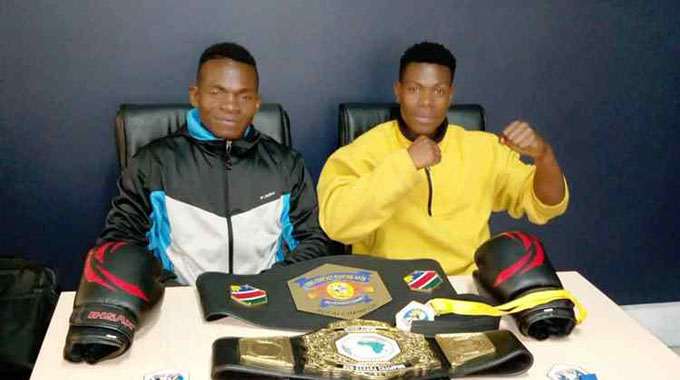 The ManicaPost
Fungayi Munyoro Sports Correspondent
MUTARE based kickboxer Knowledge Nyamhoka Junior is the new  sub-Saharan middle-weight full contact kickboxing champion after beating South African David Mokoena at the Desert Storm International 3 in Walvis Bay, Namibia last weekend.
Nyamhoka also successfully defended his Desert Storm Ring Contact championship belt while another Mutare based kickboxer Bruce Gumbo won a silver medal in the K1 Rule Fight category at the same tournament.
Nine countries which include South Africa, Zambia, Zimbabwe, Brazil, Botswana, Germany, France, Angola and the hosts Namibia, took part in the competition.
Participants took part in three categories.
The 21- year old star could not hide his joy.
He acknowledged that is was a difficult tournament.
"It was a good experience. I am very happy to be the first ever winner in Zimbabwe. I am proud also to have represented my country and province at this prestigious event.
"It was a good experience defending the Desert Storm ring contact championship belt again. This time around the competition was very stiff.
I think i managed to sail through because of the training that i went through before the competition," he said
Gumbo who won a silver medal in the K1 Rule Fight said he was aiming higher when he represented the country in Turkey later this year.
"I have improved a lot from last year. I attended the same tournament and I won a bronze medal. This year I managed a silver medal.
"I am targeting a gold medal when I go to Turkey in December. I am learning from my past experiences. I am also working hard to be a better fighter. The sport includes hard work and discipline. Hard-work will definitely pay off," he said.
Gumbo also said sponsorship had hampered the development of the sport in the country.
"I think kickboxing would have been a great sport if sponsors come on board. Our gyms do not have proper training equipment like groin guards, gloves and mouth guards.
The challenge we meet in such big tournaments is that we will be using these things for the  first time and we  usually  struggle.
At times we travel by road and by the time we reach our destination, we will be too tired to fight. We are appealing to the corporate world to help sponsor kick-boxing," he said.
Zimbabwe team (Leg Hunters) had 13 fighters and they brought a silver medal each. Two of the fighters also won gold medals.
Meanwhile, Manicaland kickboxing will hold Night of Champions competition tomorrow (Saturday) at Body Active Gym.
The tournament will see Manicaland based fighters battling for top honours. Fighters will take part in three categories- light, middle and heavy weight.