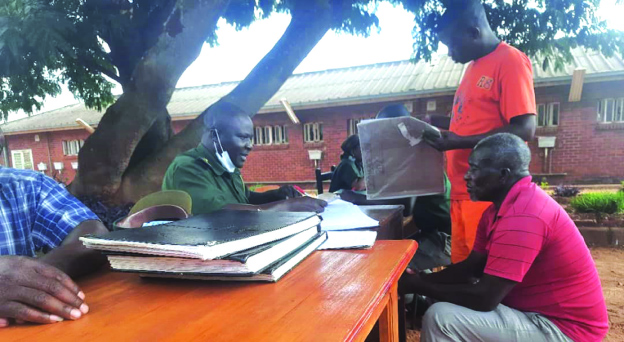 The ManicaPost
Ray Bande
Senior Reporter
WHEN 73-year-old Mr David Mupango, a former chauffer in the Ministry of Foreign Affairs and International Trade, was thrown behind bars for culpable homicide a year ago, doing time had never been in his scheme of things, not even in his wildest dreams.
It only took a nasty turn of events at that later stage of his life for him to land in jail.
His son had degenerated into a social misfit due to alcohol and drug abuse.
He brought shame to the family name as he gained notoriety of stealing from people's homes in Muzokomba, Buhera.
Mr Mupango said: "I just had bad luck. My son had become a nuisance in our area. He was drinking too much and abusing drugs as well as stealing from people's homes.
"I decided to confront him over the matter with the intention of instilling discipline, but the boy fought me viciously and actually broke two of my teeth.
"I reacted by striking him with a log and he ducked. The log hit him behind the ear and he collapsed. He was pronounced dead upon arrival at hospital. I was arrested and sentenced to three years imprisonment for culpable homicide. I had served a year before the Presidential Amnesty," said Mr Mupango upon his release from Mutare Farm Prison last week on Thursday.
For 43-year-old Mr Alfred Manjakawawa, a Malawian national who learnt and mastered the Shona language at Mutare Remand Prison during the seven years he was an inmate there, his conscience is clear although he was convicted of drug trafficking.
"I was found in possession of dagga, but the dagga was not mine. I was employed as a truck driver. On the trip that resulted in my arrest, I was assigned to collect a truck from Forbes Border Post into Zimbabwe after the driver who came with it all the way from Malawi had dumped it there.
"When I got to Forbes Border Post, the truck was parked at the physical check point. It is at the check point where they discovered that the truck was carrying about 889kgs of dagga. I was arrested and sentenced to 15 years imprisonment. This was my seventh year," said Mr Manjakawawa.
Sixty-two-year-old Mr Saul Mukarati who went into jail some 21 years ago claims that he lost a precious part of his life due to manipulation of his case by some unnamed powerful forces.
Mr Mukarati was sentenced to 33 years behind bars for raping a woman that he maintains was his second wife, although he just could not formalise their union.
"I really do not want to dwell much on the past. I am thankful to President Mnangagwa for granting this amnesty. This is like being given a second chance in life.
"My alleged rape case was cooked up and manipulated along the way by some powerful forces but through God's grace, President Mnangagwa has pardoned me and now l will get to enjoy my life out of prison," he said.
Listening to some of the stories, one gets the impression that maybe all of us are in fact potential prisoners one way or the other.
Even in biblical times, there are many examples of innocent men who were put into prison.
Joseph was thrown in an Egyptian prison after being wrongfully accused of sexually assaulting his master's wife (Genesis 39:6–20).
The woman had sexual interests in Joseph and when he rejected her, she falsely accused him of attempted rape.
The truth was buried, and Joseph ends up in jail.
John the Baptist was also thrown in prison for unjust reasons. King Herod was angry with him for saying it was wrong to marry his brother's wife (Mark 6:17–18).
In prison, John received special encouragement from the Lord (Luke 7:22). However, he was eventually beheaded to please Herod's spiteful wife.