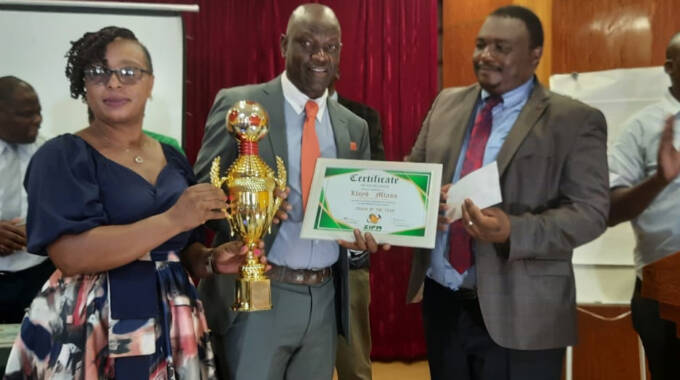 The ManicaPost
Ray Bande
Senior Reporter
THAT the standards of the game of football in the country have drastically gone down, no one refutes.
But factors that contributed to this downward spiral are subjective and highly opinionated.
For the legendary GreenFuel FC coach, Lloyd 'Samaita' Mutasa, the declining standards of the game of football have much to do with bread and butter issues.
The soft spoken gaffer, whose immortal Tanganda FC Class of 1993 remains the only Premiership club based in Manicaland ever to clinch a major top-flight silverware more than two decades on, believes that while they used to play for their names back then, today's footballers are forgivably playing for survival.
In the absence of sound remuneration, which is typical for most clubs from the top-flight league to the grassroots, players are bound not to give undivided attention to the game.
"During my days at Tanganda FC, I was employed as a dispatching clerk. I used to start work at 8am and knock off at 4pm. I would go for training sessions after finishing work. I would go for a road run every day along Christmas Pass from Morningside. I would then take a bath and leave for work. After 4pm, we will go for training.
"I remember we used to feel that the training time was so little and we would compensate that by having our own sessions outside the normal club sessions.
"One of the major reasons that has led to the declining standards is that where we used to play for our names, they now play for their families. You know how hard it is to leave home without providing enough for the wife and kids.
"It is different from us because we were contended with what we got from our jobs and whatever came from football was more of a bonus.
This is the reason why you find players moving from one club to the other in a short space of time, all because they are in search of greener pastures.
"A rolling stone gathers no moss. You keep changing places and adjusting to different environments every day. Some, if not most, of the clubs are hardly paying their staff and that leaves the players unmotivated at all. This all affects the players' performance and ultimately the standards of the game," said Mutasa in a wide-ranging interview on the sidelines of the 2022 end of season ZIFA Eastern Region soccer star of the year awards ceremony held at a local hotel last week on Saturday.
No wonder, veteran CAPS United technical director, Nelson Matongorere believes that there is talent in Zimbabwe, but most of the talented footballers end up pursuing other fields outside the game.
"There is abundant talent in Zimbabwe, if you ask me. But, the standards in the Premiership is close to pathetic.
"If you want to see talent, go to tertiary institutions. I often attend their matches, but due to the negativity associated with our game, good players end up pursuing academics," said Matongorere.
"There is a need for each and every one of us to play a part in trying to bring sanity to our game. We should be able to demonstrate why someone who is academically gifted should also have a good reason to pursue a football career like what we used to see in the past with the likes of such players as Tauya Murehwa who played football while he was also studying to be a medical doctor."
Basically, the current crop of players are a disappointing lot, such that even fans are no longer interested in attending matches like they used to do some 10 or more years ago.