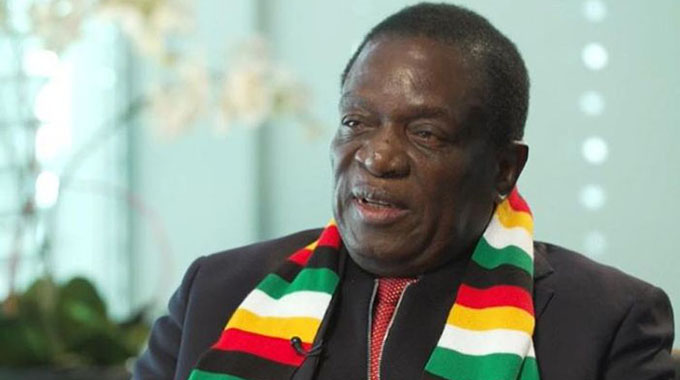 The ManicaPost
Ray Bande
Senior Reporter
PRESIDENT Mnangagwa has urged officials in State-owned entities to put their shoulders on the wheel in the implementation of National Development Strategy 1 (NDS1) as the country works towards attaining Vision 2030.
In a speech read on his behalf by Defence and War Veterans Minister Oppah Muchinguri-Kashiri during the commissioning of timber production machinery received under the Belarus facility, the President said there was no more room for lethargy in the management of State-owned enterprises.
The President was speaking at the Allied Timbers Zimbabwe (ATZ)'s Nyakamete Industrial site last week on Saturday.
"My Government is actively pursuing Vision 2030, and we are very determined to do everything within our capacity for our great country to attain an upper middle-income status. I urge Allied Timbers Zimbabwe to play its part in this pursuit.
"It is the least that we expect from State-owned enterprises. There is no more room for lethargy in the management of State-owned enterprises.
"I call upon industry, particularly State-owned enterprises, to have the appetite and determination to score under National Development Strategy 1.
''Our eyes are set on the attainment of Vision 2030 through which an upper-middle income economy in Zimbabwe is possible," said President Mnangagwa.
He commended ATZ for creating jobs in rural areas, while urging the timber producing concern to expedite the installation of a state-of-the-art sawmill in Cashel Valley.
"For Allied Timbers Zimbabwe, the creation of rural jobs and generation of foreign currency from timber exports are low hanging fruits. It is possible to re-gain our export markets.
"Other projects that are critical to the Allied Timbers Zimbabwe's revival includethe Factory Value-addition Project here in Mutare and the sawmill project at Cashel in Chimanimani.
"I am advised that some progress has been registered on the ground. However, I implore you to deliver the Cashel Valley sawmill project according to schedule. It will certainly be my pleasure to come back again to Allied Timbers Zimbabwe before the rainy season to find the mill operational," said President Mnangagwa.
Speaking during the same function, Environment, Tourism, Climate and Hospitality Industries Minister Mangaliso Ndlovu said while investing in ATZ's retooling was an easy decision to make, implementation has not been a stroll in the park.
"The forestry value chain has special requirements for technology, working capital, infrastructure, and long investment periods which create a formidable barrier to quick-return investments.
"Viewed from the perspective of the Forest Act (Chapter 19:05) and the dictates of NDS1, the Government resolved to support Allied Timbers Zimbabwe in meeting its expected contribution to infrastructural development, beneficiation, and foreign currency generation or import substitution.
"It was an easy decision to enrol Allied Timbers Zimbabwe onto the Belarus facility, but it was a tall order to implement," he said.
The ATZ forestry equipment commissioned last week include four dump trucks, seven 30-tonne trucks, one low-bed carrier trailer, six semi-trailers with hydraulic manipulator, 10 drop-side trucks, 30 motorbikes, seven fire tenders and five Toyota Hilux trucks.