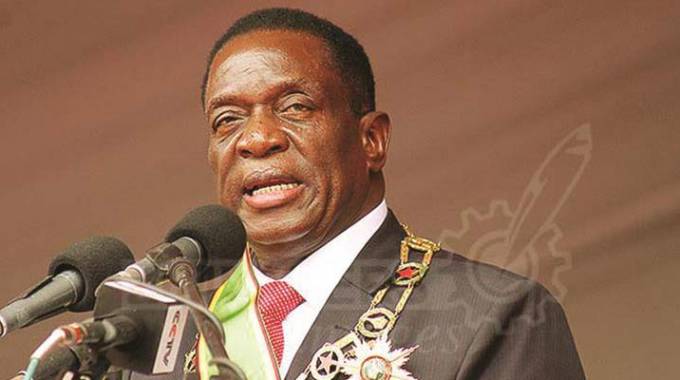 The ManicaPost
Chenai Mutasa Post Correspondent
OPPOSITION leader Advocate Nelson Chamisa has lately been calling for dialogue with President Emmerson Mnangagwa with a view to cause the establishment of a transitional authority in Zimbabwe.
By definition, a transitional authority is "an emergency Governmental authority set up to manage a political transition, generally in the cases of new nations or following the collapse of the previous governing administration".
It is clear from the above definition that Zimbabwe does not need a transitional authority because there is no "political transition" taking place neither has the previous Government collapsed. Zimbabwe is simply in the Second Republic with a constitutionally elected President, who won the July 30 elections with 50.6 percent.
Calls for a transitional authority by the opposition are badly disguised appeals for self-serving posts in Government, especially on the part of Adv Chamisa.
Addressing party supporters in Harare during a poorly attended demonstration last week, Adv Chamisa laid bare his wishes saying: "This is the matter we want to discuss with him (President Mnangagwa), him saying what he wants, and we also tell him what we want; and we conclude this issue considering that he made himself President and I was chosen by the people and also come up with a policy as to who does what and who goes where".
Adv Chamisa has also proved himself to be insincere in his calls for unity and dialogue, for how can he say he wants to dialogue with President Mnangagwa and in the same breadth, insist that the President is illegitimate and he won't recognise him.
Who then does he wants to dialogue with and in what capacity?
Even in his petition document submitted to Speaker of Parliament, Advocate Jacob Mudenda, Sadc Chairperson, President Hage Geingob of Namibia and the AU Chairperson, President Paul Kagame of Rwanda, titled "the Petition on the Roadmap to Legitimacy and Democracy in Zimbabwe (Reload)," Adv Chamisa completely ignores the executive which is led by President Mnangagwa.
Not surprisingly, Sadc through its Executive Secretary, Dr Stergomena Lawrence Tax, poured cold water on the petition before it even reached its offices. Addressing journalists last Friday after a three day working visit to Zimbabwe, Dr Tax said, "In terms of the petition, I have not received the petition. What should be recognised is that Zimbabwe is a sovereign country, Zimbabwe has a Constitution and Zimbabwe is guided by a number of legislations. Our advice is that let those be observed, elections took place, elections were contested, the Constitutional Court also judged. So all those were processes, and instruments to ensure that there is democracy".
Sadc's reaction to the petition was indicative of one crucial fact — that President Mnangagwa is the legitimate President of Zimbabwe and is recognised as such regionally and internationally. Next year, he takes over the chairmanship of the Sadc Organ on Politics and Defence.
He has attended various international engagements where he was given full acknowledgements due to a Head of State.
One wonders therefore, whom Adv Chamisa is still hoping to hoodwink into believing that President Mnangagwa is illegitimate when it's clear that ship has already sailed. It would be wise for Adv Chamisa to realise that there can be no dialogue until he publicly acknowledges  that he lost this year's elections and stops misleading his supporters with false hope of "kusvika Canaan."
By Adv Chamisa's petulance, several analysts have noted that what Zimbabwe needs at the moment is not a transitional authority, but sound economic policies reinforced by fiscal discipline.
This is already being implemented by Government as the 2019 National Budget testifies. Zimbabweans should disrobe themselves of the bedtime story that the MDC came with a magic wand during the Government of National Unity.
The GNU era witnessed improved welfare for citizens compared to preceding years owing to a number of factors including the dollarisation of the economy. No one came with bags of money as Adv Chamisa claims he would do if he somehow got into State House.
Rome was not built in a day.
Similarly, Zimbabwe's economy cannot be fixed overnight.
What is needed is not a transitional authority, or the self-proclaimed super hero Adv Chamisa, but commitment to economic policies being implemented by Government.
As the Minister of Finance and Economic Development, Professor Mthuli Ncube noted, things are going to be painful before they get better.