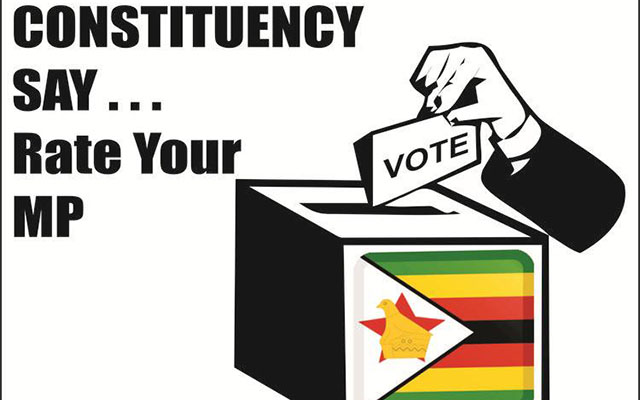 The ManicaPost
Ray Bande Senior Reporter
AS Mutasa Central legislator, Trevor Saruwaka (MDC-T) winds up his second term in Parliament, many constituents will remember him as one of the laziest MPs the constituency has ever had.
The electorate accuse the MP of going AWOL since 2013, hence his failure to grasp the public mood.
They feel he slept on duty and his only contribution was some rechargeable batteries and a charger donated to Dada Rural Hospital in Tsonzo village, Ward 17.
Mr David Zamba (63), of Makomva Village, Ward 11, in DC Mutasa, had no kind words for the MP.
Mr Zamba, who is the first MDC-T chairman in the area, had this to say: "I have to be honest MP Saruwaka did nothing to develop this area. All we know are the rechargeable batteries for the digital BP machine that he donated to Dada Rural Hospital in Tsonzo village. He has not done anything praiseworthy.
"We have had so many promises from him, but none of them have been fulfilled. We somehow foolishly believed his excuses when he finished his first term as MP. Now it is clear that he cannot deliver on anything.
"During my tenure as MDC-T chairperson I was promised a lot of things both as an individual and on behalf of the community, but nothing tangible came out of those promises."
Mr Admire Mapope, of Ward 20, said they only remembered Saruwaka for the hullubaloo raised by his national flag jacket in Parliament.
"I think he failed us as a constituency. His election as MP was a protest vote as people reacted to poor governance and the harsh economic conditions. We only heard of his national flag jacket incident in Parliament and that was it," he said.
Mr Stephen Mudimba, of Mutasa village said MP Saruwaka was more grandstanding and desperate for recognition yet doing nothing for the constituency.
"We have an MP who is more grandstanding and desperate for recognition but is doing nothing to develop the constituency. He is more of a Facebook and social media character than a constituency developer.
"He has no idea how to develop the constituency. He is bankrupt and at one point tried to hijack a construction project that was being spearheaded by a local well-wisher. He was so desperate to the extent of donating river sand, which was not needed," he said.
However, Mr Chengetai Nyahanana, of Ward 30, said MP Saruwaka did his best under difficult circumstances.
"He has done some developmental works in the constituency and has been a true representative of the constituency in Parliament. He acquitted himself well and demonstrated that he is not in it for money but to serve the people," said Mr Nyahanana.
Mrs Memory Saunyama, of Watsomba said MP Saruwaka did the best with limited resources.
"The MP did well with limited resources at his disposal. We know that he is a backbencher and his party is not in Government, so we did not expect miracles from him. There is no way he could use personal resources to develop the constituency because he is not wealthy," she said.
MP Saruwaka believes he has done his best.
"My primary role as an MP is divided into three specific categories – representative, oversight and legislative. I believe my strength is in the first. There are three key issues that I have managed to fight for and succeeded in this last term, key among them, the unfair distribution of Government support in Mutasa Central. I engaged the DA, GMB officials, the then and present Provincial Affairs ministers, Agriculture, and Social Welfare ministers over the plight and marginalisation of the people of Mutasa Central.
"I held meetings, wrote letters and in one instance led a demonstration at the GMB depot. These efforts resulted in the previously marginalised accessing Government inputs, rice and maize support. I managed to lobby for a reduction of the average cost per bag of seed, fertiliser, rice and maize whose costs fell from $5 to $1," he said.
MP Saruwaka said he had fought to ensure Mutasa Rural District Council got access to the Pungwe pipeline.
"The Pungwe pipeline water access is also another project I have worked hard for with other partners. I started fighting for this cause in 2008. I made presentations to the City of Mutare, ZINWA and the Minister of Environment, Water and Climate over the need for people living along the pipeline to be granted access. We eventually made a breakthrough in 2015 when Government, through Zinwa, facilitated and funded the project to connect Mutasa Central to the pipeline.
"As we speak, communities along the pipeline are accruing benefits from the pipeline. My role is to make representations and Government is there to implement through its various agencies, parastatals and departments. I would use the question and answer session in Parliament to demand access to the pipeline for Mutasa Central communities," he said.
The MP said he also worked tirelessly to ensure roads are rehabilitated in the constituency.
"Grading and maintenance of roads in the constituency is also another area that I excelled in. After many years of neglect and marginalisation, I did a petition that was signed by more than 3 000 people from Mutasa Central demanding that roads in the constituency be maintained.
"This forced the Department of Roads to rehabilitate the Watsomba-Shamu; Jombe-Bvuma, Bonda-Mapara roads; the DDF to grade Sherukuru, Triashill, Mapfekera and now Mwoyoweshumba roads while Mutasa RDC worked on the Chirarwe, St Barbara's, Berthania, Tsonzo, Nyakatsapa and Dzvinyu roads," he said.
MP Saruwaka also spoke of his legislative role in Parliament.
"In Parliament, I have contributed to debate on the ban of second hand clothes by Minster Chinamasa. My oversight role has seen me interacting with various Government and parastatal employees so that they stick to professional ethics in their distribution of handouts.
"They are now executing their mandates in a fair and non-partisan manner," he said.
MP Saruwaka admitted a number of challenges existed in his constituency. Some of the challenges, he said, had been there for decades.
"Our biggest challenge is resistance by Government agencies and senior employees to treat Mutasa Central as an equal constituency with others.
"Partisan traditional leaders and sometimes unco-operative Government workers make my life and job terrible. These institutions more
often than not answer to rival political leadership instead of sticking to their professional mandate.
"Roads become the major challenge. Footbridges across the many streams and rivers in Mutasa Central need to be constructed and rehabilitated. Electricity to communities and institutions is also needed.
"Communication network is still a challenge and areas around Sherukuru need boosters to increase cell phone network coverage," he added.
We give Saruwaka a rating of 5 /10.