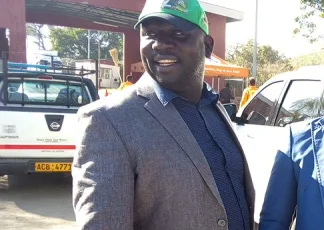 The ManicaPost
Samuel Kadungure
Senior Reporter
Newly-appointed ZANU PF Manicaland provincial chairman, Cde Tawanda Mukodza has said his executive will execute its mandate to win the 2023 elections.
Cde Mukodza also said they will be fair and firm in handling differences and disciplinary matters.
He said in order for the party to win the 2023 elections resoundingly, they will be all-embracing and will let bye-gones be bye-gones.
Cde Mukodza, who recently graduated from the provincial youth league to the main wing said the newly installed executive has the right blend and balance of talented youth, war veterans and the old guard, which makes it more appealing to any voter.
Cde Mukodza took over from Cde Mike Madiro who was recently elevated to the Central Committee, which is the party's supreme decision-making body.
He will be deputised by provincial War Veterans League chairman, Cde Linda Matatu.
Cde Albert Nyakuedzwa – the Makoni District Coordinating Committee (DCC) chairman, is the incoming provincial political commissar.
Cde Nyakuedzwa early this year contested for the provincial chairmanship, but lost to Cde Madiro.
Another addition is Cde Innocent Benza who becomes the new secretary for legal affairs, taking over from Cde Misheck Mugadza, who was also elevated to the Central Committee.
Cde Mukodza insisted that he is an independent thinking cadre who is not aligned to anyone, and will not hesitate to make bold decisions on behalf of the party.
Upon assuming the reins, he has already stamped his authority and ringed changes at the party's provincial office.
He said his decision was hinged on the need to protect the integrity of the office while ensuring confidentiality in the handling of party information.
"We have a good blend of leadership capable of delivering votes in 2023. We are both capable and acceptable to the majority of the people. We were selected through consensus, the intention being to unite the province and avoid going into the 2023 election in a fragmented state.
"The party leadership in Manicaland, as recently appointed by President Mnangagwa, saw it necessary not to have elections to fill vacancies in the provincial executive. They opted for a consensus decision to fill vacancies in the provincial executive to avoid infighting for positions as it could have fragmented and derailed the party's preparations for the 2023 harmonised elections," said Cde Mukodza.
He said his vision is to unite the party, minimise conflicts, handle internal differences and deal with disciplinary issues constitutionally without attaching personal emotions.
"We have the 2023 elections coming up and we won't make it as a party if people are divided. We need to stick to constitutionalism when handling differences, disciplinary matters and in the selection of candidates. These issues should not be personalised, but dealt with professionally and constitutionally.
"I cannot say we inherited a fragmented province. There are a few bad apples that do things to the extreme, but the majority are united towards the party's victory and success. It is a difficult task, but as cadres that have been through the mill, we can handle any situation. We have to put some effort. We need everyone on board," he said.
"Our mandate is to deliver the province to Zanu PF. We will be fair and allow party members to select their representatives in free, fair and credible primary elections. Imposition of candidates brews disgruntlement.
"We want winners and losers to accept the results, shake hands and work together.
"After the primaries, all contestants must come together for the sake of the party. We have seen the party losing some constituencies due to differences that stem from primary elections. We will abide by the party principles. I will not impose anyone in any ward or constituency, its detrimental to the party," he said.
Cde Mukodza said those who doubt his ability to steer the ship are in for a rude awakening.
"It is always good to be an underdog because you are not under pressure, and will always shock those who think that you are not worth the office. I am very capable and we will do it together with my team. I have a supportive executive. It is not about me as a person, but the executive, the teamwork.
"I am coming from the youth wing and I have age on my side. The majority of the voters are young, which is my age bracket, so I can easily interact and convince them to vote for the ruling party. We need young people in the party while retaining the old guard. The executive is well blended and we can get results from any catchment," he said.
Cde Mukodza said his thrust will also be on empowerment of youths and women who constitute the majority of voters.
He also called for fair distribution of land and mineral resources.