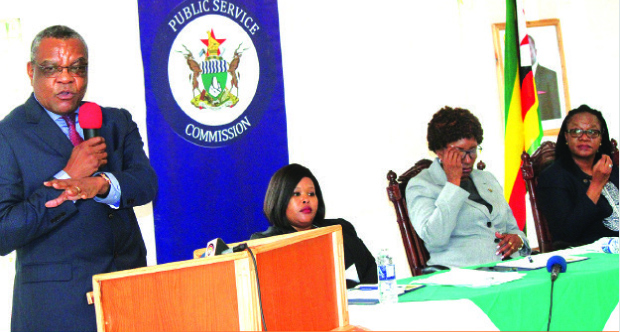 The ManicaPost
Samuel Kadungure
Senior Reporter
THE Public Service Commission (PSC) is advocating for the spirit of hard work, inventiveness and collaborative efforts among all civil servants in order to provide efficient services to the public, achieve industrialisation, rapid economic growth and balanced regional development.
PSC secretary, Dr Rosemary Tsitsi Choruma called for hardworking, collaborative and inventive Government employees, adding that national economic development relies on the diligent workforce that should take the lead and have complete confidence in this great national cause.
Dr Choruma said completing the arduous development goals and tasks require a hardworking spirit and the train will not halt before reaching the promised land of prosperity and nation-building.
In an interview on the sidelines of a provincial outreach by the Public Service Commission in Mutare on Tuesday, aimed at engaging and inculcating an intrinsic desire to be productive and develop the country among civil workers, Dr Choruma said:
"This engagement is our initiative in view of the big responsibility the Commission has as the administrator of Zimbabwe. We ought to be trusted in how the country is managed and how services are provided.
"We all come to work, to give a service to our citizens. We work for the citizens, so all civil servants have to contribute to the development of this country. Their work is not to flip papers, but to provide a service.
"So in coming to the provinces, the PSC is trying to re-engage with the public service to speak to the desire for all of us to transform this country. We do this through the structures, tools and resources at our disposal, for which one of the most important resources for us to change this country is our people.
"If our people desire to change the status, character or how this country looks today we can do it. We only have one Zimbabwe and our visits are to reiterate that the structures in the provinces are for us to work together. You can belong to a ministry, but there is need for us to come together as a whole of Government – our collaborative and interconnected thinking in what works for our locality,' she said.
Dr Choruma said through devolution, provincial and district structures must think through their problems and find solutions based on their capabilities and capacities.
"It is not just about money, but also about innovation and application of technology and other tools that may be important for us to move forward.
"We all know where this country is coming from. The Second Republic came at a time when our nation had really gone down in our performance, economy and our Gross Domestic Product. Now we are seeing some positive change. Change doesn't just come, we have to work for it. It is not instant, but there are basic things that we are seeing, construction of infrastructure, roads and dams build the base for economic development," she said.
On welfare issues, Dr Choruma did not mince her words and said civil servants should eat what they kill.
"Welfare issues of workers is directly related to how our country is performing. The country gets resources to pay its workers from our productiveness, so we have to be productive. Is the private sector producing? Do we have products that we can say they belong to us? Are we ready to make this country grow?
"Government taxes those who produce for it to be able to pay its workers. It does not create money. It is a non-productive sector.
"So the welfare issues are a thorny issue that need constant addressing. Poverty levels are high in our country, the same as the unemployment rate. These issues are also directly related to how we perform. It is almost like you kill what you eat. If you do not kill, you are not going to eat.
"Without sounding rude, I think we also need to work hard to push our economy so that we can get better wages for our workers in the private sector, quasi-Government bodies and public sector," said Dr Chouma.
Dr Choruma said bonus should not be paid to those who fold their hands.
"Towards the end of the year, people talk of bonuses, but what does bonus mean? It is a ratio of how you produce the whole year. So is it fair for us to say certain people may not go to work, but they still get a 13th cheque?
"Government is introducing the performance-based management and performance contracts will be taken seriously. This year, directors and upwards are not getting automatic bonuses because we have to demonstrate our performance in order to earn a performance award. We hope people can understand. For the future, it is all about performance and productivity," said Dr Choruma.
PSC chairman, Dr Vincent Hungwe said provincial development committees should focus on uplifting people's standard of living, raise the GDP and identify flagship projects that can generate jobs and income for citizens.
He said there is need to prioritise and strengthen monitoring and evaluation.
"We need to track performance in the context of set targets to see if we are moving in the direction set. We can only succeed to the extent that we have mobilised ourselves in the proper direction," he said.
"Each ministry must be in a position to build houses for their officers, this is the direction we want to move.
"Pension fund is something we all contribute to, so we need to figure out how it can work for us without compromising its capacity to pay when it is due and payable," said Dr Hungwe.