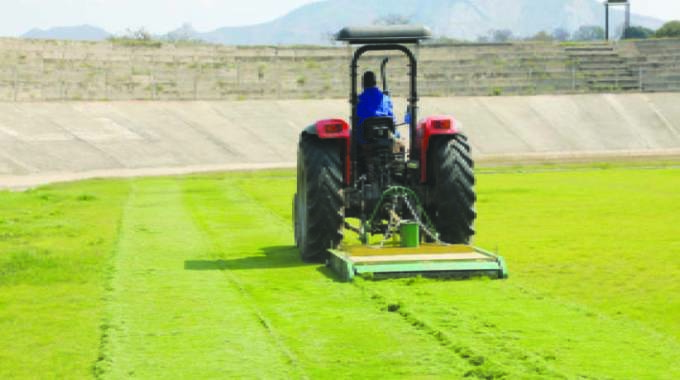 The ManicaPost
Ray Bande
Senior Reporter
CITY of Mutare will carry on with its efforts to spruce up Sakubva Stadium and the local authority is set to place a new turf valued at around $12 million at the match venue before the end of this year.
Since last year, Sakubva Stadium has been undergoing renovations that paved way for the match venue to get the nod to host top-flight league matches, hence the Chibuku Super Cup Group 3 matches being played in Mutare.
In an interview on the sidelines of Mutare City Rovers Queens' handover of groceries to players last week on Saturday at Sakubva Stadium, City of Mutare assistant housing and community services director, Noel Mushangwe confirmed that a plan has already been drawn to see the replacement of the turf as well as refurbishing the VIP section.
"Basically, we have been on a drive to provide the requisite and necessary infrastructure for sporting activities. The main goal is to upgrade Sakubva Stadium and also to ensure that it meets ZIFA standards and expectations.
"We have already covered much of the work and this is attested by the reopening of the stadium sometime this year after approval by ZIFA. We managed to host a few matches here – the Chibuku Super Cup matches that were briefly played.
"However, we still want to ensure that we have state-of-the-tart turf and we are anticipating that money coming through devolution funds as well as from council coffers, we will be able to work on the turf by year end. The work on the turf only will cost more than $12 million. We will also be looking at other smaller areas such as the media box as well as the VIP section.
"However, we are happy that we have managed to achieve most of the things that were required to be covered under the renovations," said Mushangwe.
Almost half a decade since it last played host to top-flight football action, Sakubva Stadium finally became the home ground of Manica Diamonds and Tenax FC following massive renovations done at Manicaland's ceremonial home of soccer.
The derelict state of football match venues across the country has been a major talking point as Government through the Sports and Recreation Commission (SRC), granted the resumption of high risk sports — including football — under strict Covid-19 health guidelines.
But for Sakubva Stadium, for the first time in almost a decade, the script is different.
Its custodians, Mutare City Council, have gone beyond expectations in keeping the match venue in shape, even when no revenue was being generated from the facility during the lockdown period.
With newly constructed changing rooms for players and match officials that come with bathing space for almost every individual, doping room, well furnished though small boardroom, newly designated interior parking space for limited club and officials' vehicles, and a tunnel, Sakubva Stadium easily passed to host top-flight football matches when Chibuku Super Cup matches were played.
The placing of a new turf is sweet sound to the ears of football followers in Manicaland, given that in comparison to a number of stadia across the country, Sakubva has already maintained its turf to acceptable conditions and work on the drainage system is yielding encouraging results.