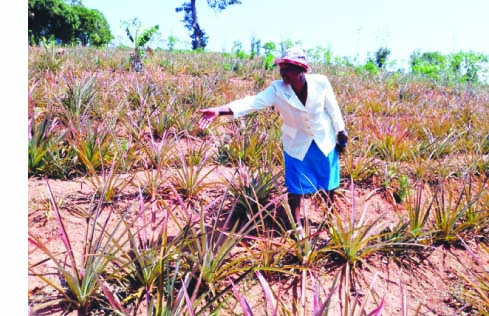 The ManicaPost
Cletus Mushanawani
News Editor
DESPITE being the cornerstone of Zimbabwe's food security, they have little to show for their efforts.
In most parts of the country, communal farmers toil hard day and night, through winter and summer, without being deterred whether or not they get returns on their investment.
Being not the masters of the price of their toil, farmers have over the years endured years of getting platitudes on ceremonial occasions like ward, district or provincial agricultural shows.
Despite that, farmers have never stopped working hard and have continued feeding the nation.
They are the epitome of Indian, Nishkam Karma's philosophy during the Kurukshetra War: "Do your duty without expecting the fruits of your labour."
To most farmers, remunerative prices are still a mirage for them. Their farm incomes are at the mercy of markets, middlemen and money-lending institutes.
For every dollar that a farmer makes, others in the supply chain get much more.
Despite increasing investments in irrigation and other infrastructure as well as increasing funding for programmes like Pfumvudza and Command Agriculture, farmers have continued to be shackled when it comes to selling their produce; especially those which are not controlled by Government.
Over the years, farmers in the undulating terrains of Burma Valley, Chimanimani, Chipinge, Honde Valley and Nyanga have been crying foul over failure to get any meaningful rewards for the sweat, tears and blood they shed working on the land.
Having been blessed with rich soils suitable to produce the best organic crops in the country, farmers in the Eastern Highlands watch haplessly as their produce rot by the roadside and when they get a market, it is through middlemen who rip them off.
While still recovering from the scars of the devastating March 2019 Cyclone Idai disaster which caused so many deaths and left deep gullies and boulders, a silver lining to the dark cloud is shining for Chimanimani and Chipinge farmers.
The determined 45 farmers can now afford to walk with a spring in their step as they scored a first among most of their peers in the Eastern Highlands.
All the 45 small holder pineapple farmers who are operating under the Rusitu Valley Fruit Growers and Marketing Trust (RVFGMT) banner received a shot in the arm following the organic certification of their pineapples by EcoCert.
The EcoCert Organic Standard is an independent French body for organic inspection and certification, which performs quality control by ensuring that all product specifications and production procedures are strictly adhered to.
This attainment of the organic certification is a critical milestone in reaching the lucrative organic fruit market, especially in the Netherlands, United Kingdom, Germany and other emerging markets such as United Arab Emirates.
With the organic standard, the Rusitu and Ndiadzo pineapple farmers will unlock access to the global pineapple market, which has grown from US$2.25 billion in 2011 to US$2.6 billion in 2019.
The organic certification will now see the farmers' produce finding its way into European supermarkets where it will be able to fetch as much as 30 percent premium.
Being a pilot project which was facilitated by ZimTrade and aimed at promoting a culture of production and management standards by rural and smallholder farmers, the farmers can hardly wait for the first shipment of their produce.
A tour of Rusitu and Ndiadzo last week on Friday was met with gaiety as the farmers are now geared for a change of their economic fortunes.
One of the farmers, Mr Langton Siyekaya, said: "This is a dawn of a new era for us. We never thought this day would arrive. We had lost hope after Cyclone Idai left a trail of destruction here. However, amid the agony and despair came this exciting development of the EcoCert organic certification. The dream of having my pineapples on display in the shelves and refrigerators of major European supermarkets was something I never imagined in my lifetime.
"To us our lucrative markets have been Harare and Bulawayo, but never had any faintest sniffs on the European market. We want to maximise on this development to change both our economic and social standings."
Another farmer, Ms Lyness Chishiri who has two hectares under pineapples, said their lives were set to change for the better.
"We have been selling our producers to anyone who visited us. A kilogramme was being sold for US$0.50 and we were not getting much. Besides pineapples, we also produce bananas and naartjies. Although we were able to send our children to school, build standard houses and acquire several household properties, we still feel that we could have been up the economic ladder if we had secured international markets earlier on.
"We want to thank ZimTrade for considering us to be the pioneers of this organic farming project. We are prepared to share our expertise with all those willing to take a leaf from us. With determination, nothing is impossible. We are the masters of our own destiny," she said.
The Rusitu Fruit Growers and Marketing Trust Administrator, Mr Dudzai Ndiadzo, hailed the support they got from COLEACP, Greenstone, Embassy of Netherlands in Zimbabwe, and Netherlands-based PUM and RVO.
"The certification process was not a walk in the park. It was a rigorous exercise and it was both physically and mentally draining as a lot of effort was needed. We also learnt a lot from the whole exercise and our management of this project will definitely improve. As the marketing arm of the association, we are excited to secure foreign markets for our produce.
"We are grateful to local buyers like Greenstone who believed in our capabilities and continued supporting us. We are happy with the developments, and we are expecting to see improvements in the livelihoods of farmers as they will soon start exporting their produce.
"We are projecting a good harvest this year, but we also understand the need to improve production and quality so that we meet expectations of buyers in international markets," he said.
Mr Ndiadzo said for them to operate efficiently, they need a grading and packing shade, crates and a heavy duty tractor.
ZimTrade chief executive officer and Agricultural Marketing Authority board chairman, Mr Allan Majuru, said Rusitu and Ndiadzo farmers will be integrated into mainstream export business so that the country attains Vision 2030 of an upper middle class economy.
"As the national trade development and promotion organisation, we are playing our role in fulfilling the Second Republic's all-inclusive policy. No one should be left behind in the economic transformation of the country.
"Rusitu smallholder pineapple farmers will contribute meaningfully towards national export growth following penetration into international markets.We are happy that after many years of capacity building, the farmers have now been certified and they will be contributing towards growing national exports.
"This current success demystifies previously held misconceptions that export business is only meant for large and established farmers," said Mr Majuru.
He added: "As ZimTrade, we will continue with such initiatives that are meant to inculcate international certification compliance amongst the smallholder farmers so that they also tap into the high-end export market."