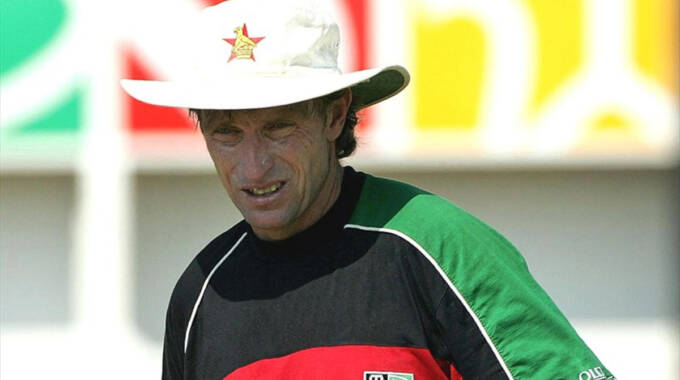 The ManicaPost
Lovemore Kadzura
Rusape Correspondent
CRICKET in Rusape is slowly rising from the ashes following the launch of a new cricket club that is expected to spearhead the development of the game in the town and surrounding areas.
Rusape Braves, a multi-racial club which was formed three months ago, is providing the much-needed platform to budding cricketers to expose their talents.
The club has partnered with John Cowie Primary School where it intends to construct a standard ground which they will use as their home ground, and most importantly as a talent incubation centre for youngsters.
Rusape used to be a cricket breeding area and produced players such as the late Kevin Curran and Gary Blanche who cut their teeth at Makoni and Nyazura sports clubs respectively before the two clubs were run down, leaving sportsperson stranded.
Braves hosted Mutare Sports Club at John Cowie last Saturday.
Rishi Solanky, the Braves captain, said efforts are underway to construct a ground at John Cowie in memory of prominent Rusape businessman, Vimal 'Globus' Devchards who was callously murdered in 2021 by armed robbers.
"We started Rusape Braves three months ago. Rusape has people who love cricket with great passion. The team will be using John Cowie Primary School as its home ground. The aim is to support young boys and girls to realise their full potential.
"At the moment, the club is a mixture of social and competitive players. The exciting thing is that the club has grown immensely during the three months of its existence. Our aim is that next season we will be part of the cricket league and play other competitive teams," said Solanky.
He added: "There is a lot of talent here and we want to harness it. So far, we have played four friendly games with Mutare-based teams and we performed well. We initially wanted Makoni Country Club to be our home ground because there used to be a nice cricket ground there, but we later decided to settle for John Cowie Primary School.
"We will develop this ground to perfect standards so that it also benefit other schools and the community. This ground will be called Vimal Devchards Memorial Ground. Devchards was shot dead by robbers at his home. We are working with Zimbabwe Cricket and the community to see this happening. Our immediate target is to raise US$2 500 to purchase water pipes and tanks.
"As a starting point, the club is planning to adopt three talented learners from less privileged backgrounds and offer them scholarships. Our target is to produce great players such as Kevin Curran and Gary Blance who rose from humble beginnings here in Rusape to global stardom."
In an interview on the sidelines of the Rusape Braves and Mutare Sports Club's recent match, Mountaineers Cricket Club's head of development, Square Square, said the gentlemen's game is spreading to all corners of the province.
"The game is developing well across all genders in Manicaland Province. Zimbabwe Cricket has covered so much ground in the province, as in the past Mutare was the only active district when it comes to cricket. This has changed as there are many clubs coming up and help cricket to go further.
"Beside Mountaineers, we now have clubs such as Westside, Mutare Sports Club, Mutare Cricket Club and Ghetto Stars. In the coming season, they will be joined by Rusape Braves to have five teams in the league.
"The Ministry of Primary and Secondary Education is very supportive of our initiative to spread the game to all schools, and communities are embracing cricket well," said Square.