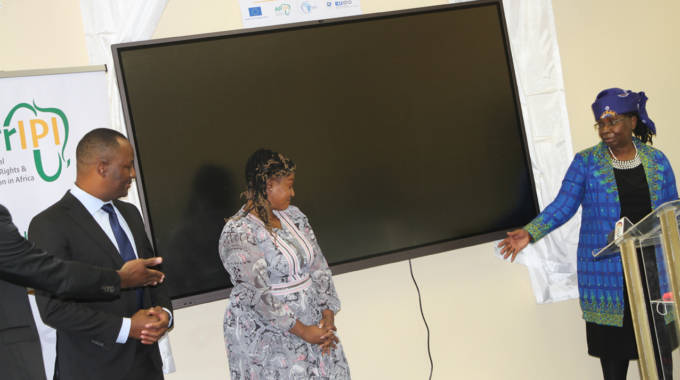 The ManicaPost
Ray Bande
Senior Reporter
ONE of the major lessons learnt from the Covid-19 pandemic along the lines of innovative e-teaching and e-learning techniques is the deconstruction of time and space, a renowned academic has said.
In his speech read by Professor Pamela Machakanja, the Africa University Interim Deputy Vice-Chancellor during the handover ceremony of the 86-inch LED smart board to Africa University Masters in Intellectual Property Department last week on Thursday, Vice Chancellor, Reverend Professor Peter Mageto, said: "The Covid-19 pandemic has taught us a lesson in innovative e-teaching and e-learning techniques, as time and space have been deconstructed.
"IP is both theoretical and practical, skills training in IP such as patent drafting and patent search would be easily demonstrated using this smartboard platform. This innovative technology would create opportunities for interaction among the learners, researchers and faculty and create possibilities for collaborative work without geographical location limitations."
The maiden class that will enjoy the services of this smartboard is the 15th cohort composed of 42 students from 21 African countries and each year an average of 36 students from at least 20 African countries benefit from the jointly offered programme.
"I want to assure you that this smartboard will have far reaching impact in the teaching and learning of IP at Africa University. On behalf of Africa University Board of Directors, Faculty, students and the whole Africa University Community, I want to thank the European Union, the European Union Intellectual Property Office, AfriPI and ARIPO for this smartboard donation," Prof Mageto added.
AfriPI, with financial support from the European Union, contributes in the process of creating, administering, utilising and enforcing Intellectual Property Rights and Systems in Africa, Africa University focuses on training IP leaders through knowledge generation and utilisation of IP knowledge through the creation of innovations, inventions, commercialisation and industrialisation of knowledge outputs into products and services for the betterment of Africa.
This is in line with today's Higher Education vision of promoting Education 5.0 which is the use of new technologies to provide more humanised teaching and learning, with a focus on students' social and emotional development and solutions that improve lives in society.