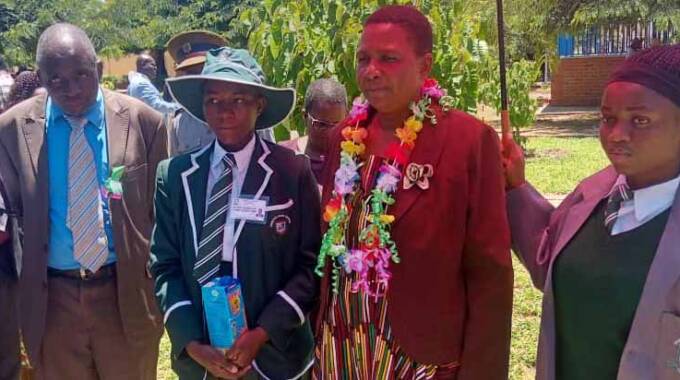 The ManicaPost
Freedom Mutanda
Correspondent
CHIBUWE High School in Chipinge District last Friday received the Secretary's Merit Award from the Ministry of Primary and Secondary Education for excelling in implementing the competency-based curriculum which equips learners with academic and practical proficiency to meet the demands of the 21st century.
It was a day of pomp and fanfare as the Permanent Secretary in the Ministry of Primary and Secondary Education, Mrs Thumisang Thabela, was shown various projects the school is undertaking which have endeared it to the community.
Mrs Thabela toured the driving school, bakery complex, maize field, fish project and garden to get an insight into what the school is doing to inculcate a spirit of entrepreneurship and resilience in learners in the face of life's vicissitudes.
She commended the school for scoring milestones.
"The Secretary Merit Award rewards quality in schools. It shows the world what can be done when there is team effort. An institution is recognisable by its leader's vision. School heads have a huge responsibility to ensure the success of learning institutions.
"Schools are encouraged to have production units just like what Chibuwe High School is doing. The school has embraced Pfumvudza and this is a clear form of education for sustainable development. Food security becomes the net effect of what they are doing. Production units are learning places. Government is moving to modernise schools across the country and no place must be left behind. We should be at the forefront of implementing Government policies," she said.
Chipinge District Schools Inspector, Mr Abson Mapfumo said it was an honour for the district to have one of its schools receive the Secretary's Merit Award.
"We are excited. It is not everyday that a school becomes a go-to one and Chibuwe High has made the district proud. I hope other heads will emulate this feat," said Mr Mapfumo.
The school head, Mr Needmore Maposa, attributed their milestone to teamwork.
"None but ourselves can make Chibuwe High an excellent school. "Nyika inovakwa nevene vayo," as President Mnangagwa says. As a learning institution, we believe in teamwork and creating a legacy. Retrogression is not an option," he said.
The occasion was graced by Manicaland Provincial Education Director, Mr Edward Shumba, Chipinge District Development Coordinator, Mr William Mashava, school heads from Chipinge district and Chipinge Rural District Council Chief Executive Officer, Mr Blessing Mamvocha, whose office is the Responsible Authority of the school.