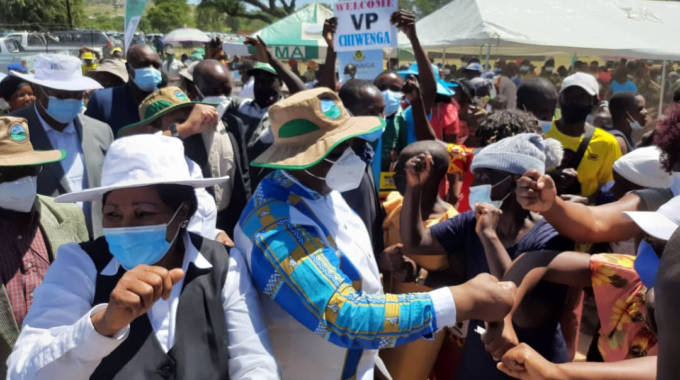 The ManicaPost
Cletus Mushanawani in BIRCHENOUGH BRIDGE
VICE PRESIDENT Constantino Chiwenga has called for the channeling of devolution funds towards environment protection to ensure efficient waste management.
Addressing thousands of people gathered at Birchenough Bridge Business Centre to participate at this month's national clean-up exercise, VP Chiwenga said it is everyone's responsibility to ensure a clean environment.
"It is our desire to see every citizen, community, corporate and business entity embracing best practices in waste management. The best practices are only possible when we join hands as Government, private sector, communities and individuals to build each other's capacity, embrace new initiatives and work together to manage waste at every level. Inclusive participation and focus remain the game changer in achieving a clean, safe and healthy environment that we all want.
"In line with the devolution agenda brought by the Second Republic under the able leadership of the President, His Excellency, Dr Mnangagwa, the best practices for waste management should take centre stage in all local authorities across the country. The devolution funds should be put to good use and distributed wisely to enhance efforts towards achieving the Goal on Smart Cities and Sustainable Communities," said VP Chiwenga.
He called on local authorities to come up with plans to empower councilors to conduct clean-up exercises at ward level.
'I want to applaud Buhera Rural District Council for remaining active in the National Clean-up Programme. May I also encourage everyone to play a similar role, in order to end the problem of waste accumulation in the environment," said VP Chiwenga.
He called for the elimination of plastic waste from the economy.
"Plastic and its associated residual material make a significant amount, by volume, of the waste we picked here today. Let us, therefore, all gear up for the elimination of plastic waste from our economy, especially the single use plastic products. By doing so, we will save our environment from pollution.
"We need to switch to environmentally friendly products. These include eco-bags and baskets. We should reject plastics that become an environmental nuisance and a burden to the economy as well as human livelihoods. I call upon industry to take the lead in bringing this humble proposal to fruition," said VP Chiwenga.
He also urged local authorities to establish synergies with progressive individuals and institutions in the cleaning and greening agenda.
"The month of April remains a great month in our country as we celebrate our independence. Celebrating our independence means that we are in charge of our destiny and our affairs, including our environment. We must find and appreciate the importance of cleaning our environment and keeping our immediate surroundings clean in terms of public convenience and economic development. Let us afford each citizen that individual birth right of a clean environment which is beneficial to health.
The Vice President and his entourage which included the Minister of State for Manicaland Provincial Affairs and Devolution, Nokuthula Matsikenyere, Environment, Climate, Tourism and Hospitality Industry Deputy Minister, Barbra Rwodzi, Transport and Infrastructural Development Deputy Minister, Cde Mike Madiro and local Members of Parliament led the clean-up campaign at the ever busy Birchenough Bridge Market.