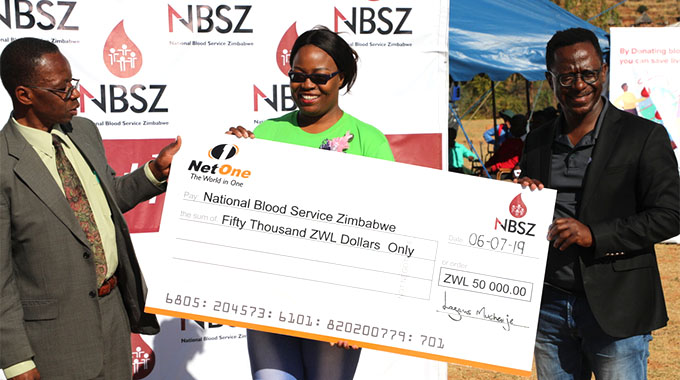 The ManicaPost
Kudakwashe Chidziya Post Correspondent
THE National Blood Services of Zimbabwe (NBSZ) intends to collect 108 400 units of blood this year, an increase from the 82 257 it managed last year.
Demand for blood has sharply increased.
The 82 257 units NBSZ collected last year represented a 21 percent increase from 2017.
Speaking at the World Blood Donor Day celebrations in Chimanimani recently, NBSZ chief executive officer Ms Lucy Marowa said they wanted to ensure the country had enough blood stock all the time.
"It has been just over a year since free blood initiative was introduced by the Government in July 2018. This continues to be a tall order to ensure that we meet demand of blood needed countrywide. The demand is high and we intend to address this by collecting more units so that we have sufficient blood, especially towards year end," she said.
The NBSZ donated text-books, sanitary pads and a computer at St Charles Luwanga.
"We would like to give back to our valued blood donors in this case students and adults. We hope these textbooks, rulers, pens and sanitary pads will help our students realise their full potential. For our adult donors here in Chimanimani, we have mobilised 94 packets of assorted clothes, seven bales of blankets and assorted food hampers," said Ms Marowa.
Minister of State for Manicaland Provincial Affairs Dr Ellen Gwaradzimba, who was represented by the Provincial Administrator Mr Edgar Seenza thanked the Ministry of Primary and Secondary Education for supporting the NBSZ initiative.
"I would like to pay tribute to the schools and the Ministry of Primary and Secondary Education for the support that they give NBSZ. Students contribute over 70 percent of the total collections. More needs to be done for adults who contribute less than 30 percent to the national collections. It must be everyone's responsibility to donate blood voluntarily," she said.
This year's global world blood donor day celebrations were held in Kigali, Rwanda last month.