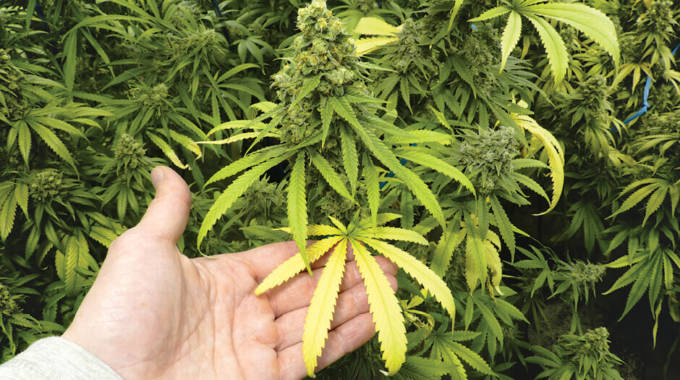 The ManicaPost
Abel Zhakata
Senior Reporter
A 56-year-old Chipinge woman, who was caught red-handed by detectives as she weeded her field which had 143 plants of dagga, told the cops that she used the drug in conducting healing sessions at her homestead.
Arairwai Chikunga from Hanganyi Village under Chief Mutema is set to appear in court soon facing charges of cultivating dagga as defined in Section 156 (10 (b) of the Criminal Law Codification and Reform Act Chapter 9:23.
Acting Manicaland police spokesman Assistant Inspector Wiseman Chinyoka said the suspect was caught following a tip off.
"On January 10 detectives received information to the effect that the accused person had cultivated dagga at her homestead in Hanganyi Village. The team proceeded to her homestead. Upon arrival they did some surveillance until they saw the accused person weeding the marijuana field.
"They approached the suspect, identified themselves and informed her about their mission. The cops told her that she was under arrest for cultivating the plants which had an average height of 180 centimetres. The plants were uprooted and taken as exhibits," he said.
Meanwhile, police in Middle Sabi are looking for two suspects who disappeared at a police checkpoint leaving behind 15 buckets of dagga which they were transporting using a hired vehicle.
Assistant Inspector Chinyoka said on January 7 at around 8pm, police officers who were manning a police road block at the Grain Marketing Board Turn-off along Ngundu-Tanganda Road stopped the vehicle for routine checks.
"As the vehicle stopped, two unknown suspects disembarked from the car and ran away towards Chipinge Safari area. The vehicle was then searched and the cops found 15 buckets of dagga in the boot," he said.
Police interviewed Tendai Chabvukwa and his two children who were also in the vehicle.
It was established that Chabvukwa was going to Wengezi to attend a funeral and that the two suspects who ran away were the owners of the dagga.
Chabvukwa told the cops that the unknown suspects had boarded his car at Rimbi Business Centre on their way to Birchenough Bridge.
They had told Chabvuka that they were carrying second hand clothes.