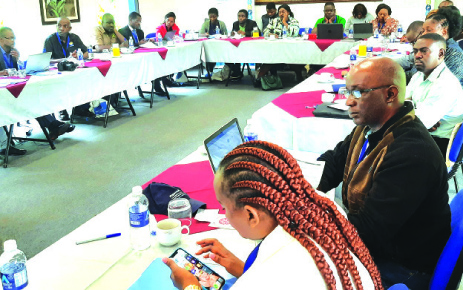 The ManicaPost
Tendai Gukutikwa
Post Reporter
FARMERS in Mutasa have ventured into maggot farming to help the country increase its fish production.
The maggots are being used for the production of fish feed.
Fish feed is currently very expensive in Zimbabwe, leaving farmers resorting to importing it from neighbouring countries.
As a result, a few farmers are venturing into fish farming and maggot farming will go a long way in upping fish production in the country, Lands, Agriculture, Water and Rural Resettlement, Minister, Dr Anxious Masuka has said.
In a speech read on his behalf by a director in his ministry, Mr Milton Makumbe at the Strategy Launch for the Sustainable Development of the Tilapia value chain in Zimbabwe held last week on Friday at a local hotel, Minister Masuka said Government recognises the important role played by fish farming in food and nutrition, security and employment and that the creation of cheap alternative fish feeds is in line with Government's vision of attaining an empowered upper middle income economy by 2030.
"There is political will in Zimbabwe to support fisheries and aquaculture as we move towards the attainment of an empowered upper middle income economy by 2030. The strategy should help unlock the potential of fish farming by creation of market linkages, provision of affordable credit lines and cheap alternative fish feeds.
"The current demand for fish in Zimbabwe outstrips supply at both national and regional levels, hence the need for the country to up its game in aquaculture. With this in mind, you will see that the country has a great opportunity to increase its fish production output. This calls for an inclusive approach from all sectors," he said.
About 94 percent of fish consumed in Zimbabwe is Tilapia which is resilient to disease and adapted to a range of environmental conditions.
This makes it a fish of first choice for aquaculture.
"We are, therefore, encouraging Zimbabweans to take advantage of the few water bodies in the country to add fish on the range of products produced at the farms. Fish do not use much water for their survival and they can be easily integrated with other animal as well as crop production.
"Fish are complementary to most existing agricultural activities at the farms. Over and above that, fish provide the much needed animal protein and fatty acids required for good health," he said.
In a speech read on his behalf by Fish4ACP National Professional Officer, Mr Paul Mwera, Food and Agriculture Organisation Sub-Regional Coordinator for Southern Africa, Dr Patrice Talla commended Government for taking the lead by making fisheries development a priority and establishing a full-fledged Department of Fisheries and Aquatic Resources.
He said with collective and inclusive efforts, the country will be able to produce the needed 14 000 metric tonnes of Tilapia fish to feed its people.
"It is important to note that fish production for profit is demand driven, hence, it is very important and I would like to urge that fish consumption surveys be conducted as we plan to scale up production. Fish consumption patterns are dynamic and change with time," he said.
Currently, the reported fish consumption per capita is 2,6kg.
He said people should recognise that fish plays a very important role in Zimbabwean people's livelihoods.
He said the launch of the Tilapia value chain upgrading strategy serves to strengthen the same goal and vision of fighting hunger and malnutrition while leaving no one behind.
"I have no doubt that the strategy we are launching today will advance our shared vision of a better life and environment. Fish farming should not only be for subsistence, but also for social and economic well-being.
"To achieve this, farmers need to develop sustainable farming models with a view to increasing farming efficiencies, increase product value and environmental performance, while at the same time taking aim at building resilience to environment change and strengthening farmer livelihood support systems," said Dr Talla.