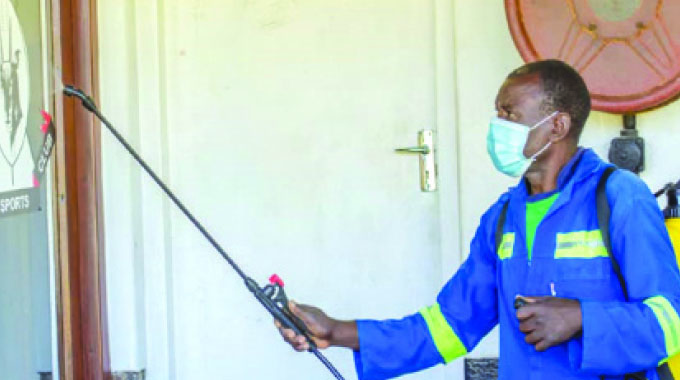 The ManicaPost
Ray Bande Senior Reporter
As the fight against Covid-19 intensifies, the Zimbabwe Cricket (ZC) has disinfected Mutare Sports Club so as to minimise the risk of spreading the virus when operations resume.
The areas that were fumigated include changing rooms, spectator stands, offices, media centres, walkways and car parks.
Mountaineers administrator, Terry Nyakurimwa, applauded the move.
"The Covid-19 pandemic poses a threat to our operations and staff. In Zimbabwe's context, the recently confirmed cases highlights the need to take precautionary measures.
"The overall intention is to limit the exposure of the organisation's stakeholders (staff and players) and minimise the impact of Covid-19 on the sport," he said.
Nyakurimwa said the players are conducting individual training sessions.
"We are pleased that our players continue to be in shape by training at home.
"On the issue of when we can resume training sessions, we stand guided by the Ministry of Sport (Youth, Sport, Arts and Recreation). President Mnangagwa recently gave the green light for low-risk sports, including cricket, to resume.
"We will soon get instructions on how to manoeuvre," he said.
However, at the beginning of the month ZC declared that they had ended their season prematurely with no winners for their premier competitions, the Logan Cup as well as the Pro50 Championship.
The ZC disinfection exercise has also been carried out at Zimbabwe's major international cricket venues — the Harare Sports Club in the capital and Queens Sports Club in Bulawayo. Kwekwe Sports Club in Midlands was also disinfected.
ZC will also sanitise its other grounds and offices elsewhere.
Apart from disinfecting its premises around the country, when operations resume, ZC will be conducting body temperature screening at all stadia and office entry points as well as supplying all its employees and players with face masks and hand sanitisers.
ZC is a running Covid-19 awareness campaigns on the national television and social media platforms.