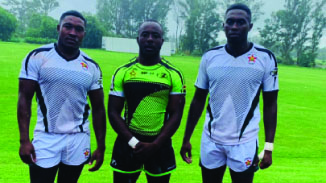 The ManicaPost
Ray Bande
Senior Reporter
THREE players from Mutare Sports Club rugby team — Tinashe Gombakomba, Tinotenda Nyawasha and Jones Dedza —were part of the national Cheetahs Academy camp hosted recently in preparation for the World Cup qualification games in a major show of confidence for the eastern border city rugby outfit.
The World Cup qualification matches start in April.
The crucial two-day camp, which was held at Old Georgians Rugby Club in Harare, saw the Mutare trio of Gombakomba, Nyawasha and Dedza, who is the Mutare Sports Club rugby team captain joining their peers from different parts of the country.
The selected players will be meeting in camp once every month before the main pre-World Cup qualification matches camp.
Mutare Sports Club captain, Dedza said: "Attending the Zimbabwe Cheetahs camp was a good experience for the three selected MSC players. It is not every day that we get a chance to be under the wings of the best coaches in Zimbabwe and train with the best players.
"We learnt a number of new things from drills to rugby culture, and we are happy to have been there, and now we will be able to share that with the rest of the guys back home."
Dedza thanked the club management for facilitating their stay in Harare.
"I want to thank my team manager, Casper 'Belt' Bandi and coach, Armson Makumbe who helped us prepare to showcase our talents and I hope next time more players from Mutare Sports Club will be drafted into the national team," he said.
Bandi said the call up to the Cheetahs camp will motivate more among his players to work extra hard and earn the recognition.
"I am happy for the boys. They are getting the exposure of high quality camping. That they are including the Shumbas in those camps will motivate other players from our team to put more extra work on and off the field for them to be recognised," said Bandi.
Apart from the trio of Gombakomba, Nyawasha and Dedza who were part of the Cheetahs camp, Mutare Sports Club rugby team continue to earn the attention of national selectors after Shumbas Sevens coach, Makumbe was also invited for the Cheetahs Rugby Academy camp.