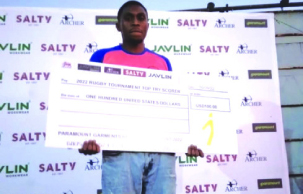 The ManicaPost
Ray Bande
Senior Reporter
RUGBY players are enjoying more game time and shaking off the Covid-19 induced rust with several competitions and friendly matches being staged in Mutare.
Only recently, Manicaland men's select side participated in the Paramount Garments Rugby Festival held in Harare where the province managed to accomplish a Herculean task by beating Old Georgians in one of the matches.
The sweet part of the victory over Old Georgians was that it was the first one for the Mutare side in more than two decades of trying.
The Manicaland Select which ended the competition in third position behind Harare Sports Club and second placed, Old Hararians, beat Old Georgians 24-13.
Old Georgians came fourth, while Bulawayo settled for the fifth position. Harare Province was sixth.
Panthers and Spartans will square off, while Mutare Sports Club lock horns with Old Crestonians at Africa University grounds tomorrow (Saturday) at 2pm.
Spokesperson of the organisers of the competitions, Tinashe Gombakomba said: "We are having more competitions and matches, both in Mutare and outside the city. This is good for the game, the players and the coaches. It also enables scouts to identify and develop talent. We are happy with the trend and hopefully we will also get corporate partnership through these matches and competitions."
In the Paramount Garments Tournament, Manicaland Province player and Mutare Sports Club captain, Jones Dedza scooped the highest try award.
Meanwhile, the rugby fraternity in Manicaland took time to remember one of their own when they attended the late Pieter De Klerk memorial last week on Friday at Presbyterian Church.
De Klerk played rugby for Manicaland and also captained the Sables (national team).
He was also part of the Sables squad that beat and drew with New Zealand in Bulawayo years back.