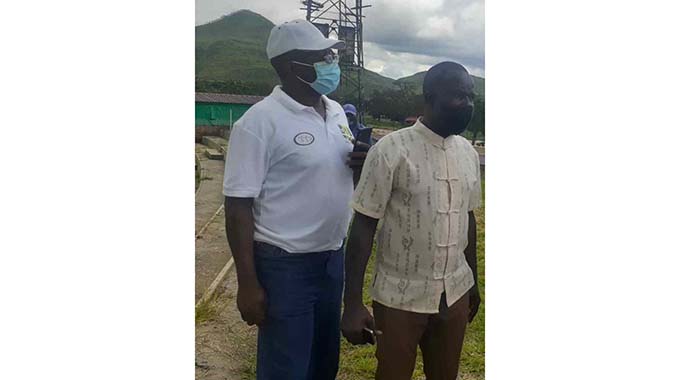 The ManicaPost
Ray Bande
Senior Reporter
MANICA Diamonds and Tenax FC — two of Mutare based top-flight league teams — are comfortable with the arrangement under the proposed cluster competition only as a way to resume football action after a lengthy Covid-19 induced lay-off.
The league bosses are proposing a raft of measures, the key being having the league returning this season, but spread across four cities – Harare, Bulawayo, Zvishavane and Mutare – with teams playing in groups.
The clubs will meet their camping and upkeep costs. They will play round robin competitions over a period of six to eight weeks during that test period.
The top teams from the groups will proceed to the semi-finals.
The winners will meet in the finals to be played at a venue to be agreed on with the sponsors.
The matches will all be played behind closed doors.
Manica Diamonds FC chairman, Masimba Chihowa, said: "For health reasons, I think it is a good way to resume playing football as a nation. It presents an opportunity to have competitive matches while it remains mindful of the Covid-19 challenge we face.
"However, I sincerely hope that this cluster competition will only serve for the purposes of that particular competition and not the actual league season. It will not be fair for other teams who will have to go throughout the season without enjoying home advantage. I cannot be so selfish to accept the arrangement simply because we have chances of using Sakubva Stadium in our group."
His Tenax FC counterpart, Stefani Masina, was also singing from the same hymn book.
"We as the Tenax family are happy that finally there is something on the table with regards to resumption of football action. We are in support of this arrangement and also feel it could serve as a precursor to the actual league season wherein all teams will enjoy the fair treatment of playing at home," said Masina.
The correctional services side boss, said they also managed to tie down all the players they had from their previous season preparations.
The Premier Soccer League's plans for the resumption of football are in motion, with clubs expected to submit registration details as well as the provisional players' retainers list.
Chihowa said they had made strides to retain every player in the squad they had already assembled when Covid-19 derailed football competitions.
"We are happy that we managed to tie down all the players we had from last season. All we are looking forward to now is the actual return of football action," Chihowa said.
Under the proposed cluster competition, the PSL wrote: "The PSL would like to apply for a variation of the Bio-Bubble Concept. The PSL Secretariat in consultation with the PSL Sports Medicine Committee will lead and implement Covid-19 related decisions on return to sport. Teams will be placed in groups and participate in the competition to be to be hosted by four cities, these provisionally being Harare, Bulawayo, Mutare and Zvishavane.
"Players will train and play football matches coming from their respective bases with emphasis on: 1. Participants being transported to and from training/matches by their respective clubs. 2. Participants and officials to be encouraged to follow all protocols for the prevention of Covid-19. 3. Testing to be done on a regular basis as prescribed in the Covid-19 protocols. 4. All matches to be initially played behind closed doors."
Although the proposal is still a working document, and yet to be ratified, this season, the league is also proposing to have a single testing system, which will be done through the ZIFA and PSL Sport Medicine Committee.
"To avoid delays and lack of uniformity, it is proposed that the PSL Sports Medicine Committee be tasked with monitoring of prompt testing of players and officials,'' the proposal says.
"All PSL Clubs are to strictly adhere to the attached additional Covid-19 containment measures, for the resumption of contact sport, as received from the Sports and Recreation Commission.
"Testing will be done by the PSL club doctors and monitored by the PSL Sports Medicine Committee. The Committee will be expanded to have a panel of 10 medical doctors. PCR/Rapid Antigen testing should be done for all players, officials and club staff, at least 48 hours prior to commencement of training.
"Rapid Antigen/PCR tests to be done within every 14 days of training from the last test. Players and officials who test positive for the Covid-19 virus will be required to isolate as per the Government guidelines.
"Training and match protocols will be strictly adhered to. Individual Clubs who wish to procure their own Covid-19 protocols equipment, and increase the frequency of testing in addition to the funding from ZIFA, will be permitted to do so under the guidance of the PSL Sports Medicine Committee."
PSL format for 2021 season.
Group One at National Sports (Harare)
Dynamos FC
Caps United
Harare City
Herentals
ZPC Kariba
Yadah
Group Two at Barbourfields (Bulawayo)
Bulawayo Chiefs
Bulawayo City
Chicken Inn
Highlanders
Group Three at Sakubva (Mutare)
Black Rhinos
Cranbone Bullets
Tenax
Manica Diamonds
Group Four at Mandava (Zvishavane).
FC Platinum
Ngezi Platinum
Triangle
Whawha
Group winners proceed to the semi-finals.