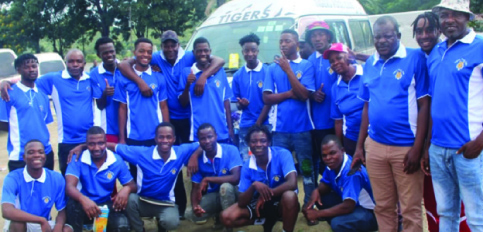 The ManicaPost
Ray Bande
Senior Reporter
MUTARE Pool League (MPL) clubs still have a lot to learn in the game of snooker after they all failed to reach the last eight stage of last weekend's Champions League competition held in the city.
The gulf in class was further exposed as MPL players proved to be novices to the use of speed cloth on the tables, let alone the stage fright that came with contesting against the best in the country.
Only Rozvie managed to reach the last 16 stage.
Star-studded, Tigers from the dormitory town of Chitungwiza successfully defended their title in a tournament that was described by Zimbabwe Pool Association (ZIPA) as the best ever organised Champions League pool contest since the inception of the competition.
ZIPA technical director, Wellington Chikasha said: "Manicaland hosted one of the best national pool tournaments over the weekend, with a record total number of 43 clubs as opposed to 23 clubs in 2019, an increase of 20 clubs. This shows a positive growth in our sport and we are very delighted as an association.
"Out of 47 clubs that had shown interest to participate, 43 managed to make it and they were drawn into eight groups where the top two finishers from each group proceeded to the last 16 which was a knockout basis up to the finals," he said.
The 2023 edition of the national pool Champions League was yet another clear reminder of how the game of snooker has gained popularity across the country as multitudes braved the heavy rains to throng the venue – Villa Spot in Dangamvura.
By all standards, pool no longer qualifies to be classified under minority sport, given that even in rural set-ups, tables are almost at every other shopping centre, let alone in urban settings.
However, it is the standards of the game in Mutare that came to the fore as all the six clubs that represented MPL – Rozvie Empire, Beolopas, Soul City, Snipers, Beer Gardens and hosts, Villa Spot – all failed to reach the lowly round of eight of the prestigious national competition.
Palace, Megga1, Liquorama, BnB Ruwa, Tigers, Leisure, Queens, Rozvi Empire, Entumbane, Niceday, Charisma, Bindura, Pahukama, Small Stones, Club 99 and Grill Master – all visiting teams – made up the list of teams that reached the top 16.
Queens, Palace, Tigers, BnB Ruwa, Niceday, Small Stones, Charisma and Grill Masters made it to the last eight, while Queens, Small Stones, Grill Masters, Tigers and Grill Masters qualified to the semi-finals that were played in a race to seven format.
In the finals, winners, Tigers got the better of Small Stones on a 7-4 scoreline.
MPL executive committee member in charge of development, Trinity Mukwapati, admitted that there is a gulf in class between Mutare clubs and their counterparts in Harare.
He also put the blame on the use of the speed cloth.
"Personally, I think the teams played very well. It is unfortunate that the tables used speed cloth of which most of our players are not used to them.
"Failure to handle pressure in high profile matches was also a factor. Our players were making silly mistakes, losing matches which they could have easily won. I also noticed that failure to comprehend the new score-sheet and field players accordingly affected our game. We could have done better if we were proficient in that end," said Mukwapati.
He added: "As a way forward, we have to make sure that our players are used to the speed cloth tables. We also need to ensure that we hold as much One Man tournaments as possible.
"This will go a long way in addressing some of the challenges that we faced at the just-ended tournament. Going into the future, we also need to ensure that we have adequate preparations for participating teams," he said.
Mashonaland East's Makotore Leisure Centre hosted the 2019 edition, which was the last edition of the tournament.
Like any other sport code, Covid-19 did not spare the game of pool from 2020 to 2022.
Meanwhile, as MPL clubs start their preparations for the 2023 season, Acid Pool Club in Zimta Park suburb will be hosting a One Man in-house tournament on Saturday (tomorrow).
Registration is pegged at $3 and the competition starts at 1.30pm.
Acid Pool Club captain, Takaedza Mundoma said: "The Acid One Man Tournament is aimed at scouting for new players for the club. It will be played on a race to three format.
"We are inviting all new players and those who want to join the club to come and partake in the competition. We are geared to assemble a formidable squad," he said.
The 2023 MPL season starts on March 25.