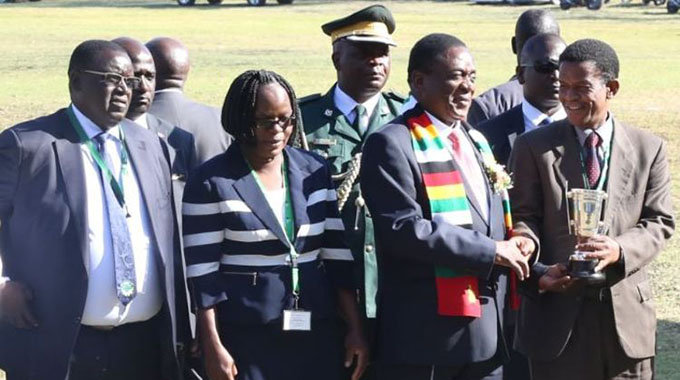 The ManicaPost
Kudakwashe Chidziya Post Correspondent
MUTARE Polytechnic is prioritising business and strategic corporate engagements across the country in a bid to increase its visibility while exploring new markets for its products.
The institution was recently embraced as a leading and reputable higher learning institution during the Beitbridge Business Expo held from the July 3 to 6.
Mutare Poly participated at the expo with a view to explore new markets, promote its courses, increase its visibility and create synergies.
Minister of State for Matebeleland South Provincial Affairs Cde Abednico Ncube, hailed the institution's exploits.
"The institution is growing big and I am impressed on how it has developed. The institution can expand and launch another branch here in Beitbridge. I would also want to appreciate the courtesy paid by the institution of coming all the way from Mutare to Beitbridge," he said.
Beitbridge has a shortage of higher learning institution, hence its gesture to extend an invitation to Mutare Poly to establish a satellite branch in the town.
Commenting on the invitation, Mutare Poly business development officer Mr Stanford Chawonza said they were keen to take up the initiative.
"As an institution we are mapping a way forward to establish and facilitate academic services in Beitbridge. It will, indeed, be an extension of our academic influence nationally.
"It is our intension to make quality education is accessible to almost everyone and in this particular case, the people of Beitbridge," he said.
Mutare Poly, under the tutelage of principal, Ms Poniso Watema added another feather on their cap after scooping the Best Education Exhibition Stand at the recently held Zimbabwe Agriculture Show (ZAS).
The institution shone like a beacon at awards ceremony held in Harare as it was its first time to receive the coveted award.
Mr Chawonza had the honour to receive the award from President Emmerson Mnangagwa, after emerging the winner.
Mutare Polytechnic was honoured for its firm administration, innovation thrust and prioritisation of hands-on education.
"Mutare Polytechnic continues to grow from strength to strength, with the thrust mainly based on the 5.O Education model.
"The institution is anchored on the heritage-based philosophy, prioritising innovation and industrialisation. Winning this award definitely reflects the progressive route the institution has taken," he said.
The institution is being guided by the vision: Heritage based empowered human capital for industrialisation and modernisation by 2030.
The institution's mission is to develop skilled human capital through heritage based education 5.0 for quality goods and services
The main values of the institution are:
Equity: quality of being impartial, just and fair.
Innovation: translating an idea or invention into a product that creates value.
Integrity: steadfast to strict moral and ethical principles/firm adherence to code of conduct.