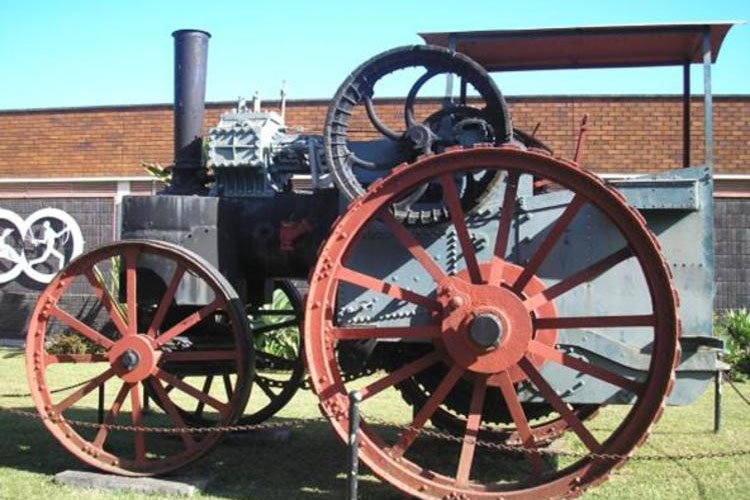 The ManicaPost
Liberty Dube Entertainment Correspondent
AS one arrives at the Mutare Museum they are welcomed by a giant traction engine standing at an imposing height of about three metres. Visitors such as school-going children are fascinated about this engineering master class which revolutionalised the locomotive industry and today proudly dominates the entrance view to the museum.
It has become one of the major features at the museum which draw scores of people from all walks of life.
A traction engine is a self-propelled steam engine used to move heavy loads on tracks. Regardless of its sheer size and slowness traction engines revolutionalised agriculture and road haulage at a time when the only alternative prime mover was the draught horse and carts.
It is one of the two 1896 Bow McLachlan traction engines specifically made for the Manica Trading Company to transport goods from Chimoio to Harare using wagons in tow. Powered by a two-cylinder compound steam engine and steered by worm gear and chain, this machine was later used for haulage on various mines. Formerly on display with the Mining Antiquaria Collection at the Natural History Museum in Bulawayo, the traction engine was transferred to Mutare Museum in 1985 as part of an exercise to centralise road transport related collections at this museum.
Mutare Museums Curator of Antiquities, Chiedza Zharare, said the traction engines were believed to be used to cart gold ore and other goods to the Theta Mine, near Kwekwe from surrounding small mines like the Antelope mine, Kaka, Abercombie, Park gate and Bowbell mines.
More were imported into Rhodesia as a substitute for oxen in the period after the cattle population had severely been affected by rinderpest. Until the quality of roads improved around the 1920s, there was little demand for faster vehicles and engines were geared accordingly to cope with their use on rough roads and farm tracks. However, the advent of petrol lorries which proved to be more efficient and tighter restrictions on road steam haulage started to signal the demise of the traction engine," she said.
The first steam powered vehicle was built around 1672 by Ferdinand Verbiest, a member of a Jesuit mission in China and was used as a toy by the Chinese Emperor.
In Southern Rhodesia, now Zimbabwe, the steam engines were first imported in 1894 by The British South Africa Company (BSAC)  which used them to haul goods from Beira port to the then Umtali (the present day Mutare).
Today traction engines are a significant tourist attraction and it is estimated that about two thousand of them have been preserved across the world and the one at Mutare Museum proudly stands out as one of them.