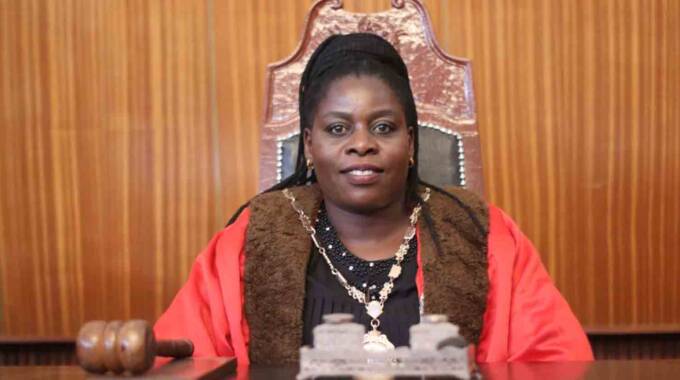 The ManicaPost
Ray Bande
Senior Reporter
WARD Eight's Councillor Sophia Gwasira made history this week after becoming the first female Mayor for the City of Mutare.
Ward 12's Councillor Cloud Nengomasha is the Deputy Mayor.
Councillor Gwasira was unanimously elected into office during the local authority's first full council meeting on Monday afternoon.
The election of the new Mayor came after the swearing-in ceremony of the local authority's councillors last week on Thursday and their subsequent induction workshop in Nyanga over the weekend.
In an interview after the swearing-in ceremony, Councillor Gwasira heartily thanked those who elected her into office.
"I feel humbled by the trust and confidence that the people of Mutare have shown in me. I thank everyone for enhancing gender balance by electing me as the first female Mayor for Mutare. Surely Mutare is gender sensitive. I do not take this for granted, and will surely leave a legacy at the end of my term," she said.
Mayor Gwasira said her administration wants to make a difference and reform the local authority by prioritising efficient and effective service delivery.
"I thank the residents of Mutare who had faith in my leadership and elected me as councillor for Ward Eight, and then the councillors for electing me as the Mayor of the City of Mutare. To serve as your Mayor is an honour beyond description.
"I am in no doubt that we are all here because we want to serve the citizens. We want to make a difference, and we want to reform council by prioritising efficient and effective service delivery," she said.
The Mayor pledged to work diligently with the local authority's management.
"I believe that as a team we will work towards making Mutare a great city," she said.
Mayor Gwasira said with the elections over, it is now time for everyone to work hard to improve service delivery in Mutare.
"Councillors, the elections are over. The voters have spoken and with that comes some responsibilities. It is now time to get to work and deliver on our mandate.
"At the just-ended councillors' induction, we were taught the attributes of an ideal councillor. As an ideal councillor and Mayor, I commit to lead the city with integrity, compassion and a deep sense of responsibility. I would like to recognise the work done by my predecessors.
"As I begin my term as Mayor, I am committed to building on the work of my predecessors and continuing their legacy. I will work tirelessly to make this city a better place for all of us," said Councillor Gwasira.
Meanwhile, 49 councillors were sworn-in in Chipinge Town and Rural District Councils early this week.
Chipinge Town Council has 10 councillors, while Chipinge Rural District Council has 39 councillors.
Speaking during the swearing-in ceremony, Chipinge District Development Coordinator, Mr William Mashava called on the councillors to set aside their political affiliations and become servants of the people in order to improve service delivery in their respective wards.
"To the new councillors, there is no party councillor, but you are now the voice of the people who elected you to represent them. Your role is to represent the people in your wards.
"Councillors are an important component in the Local Government system. Every elected councillor should be well versed with the Constitution of Zimbabwe," he said.