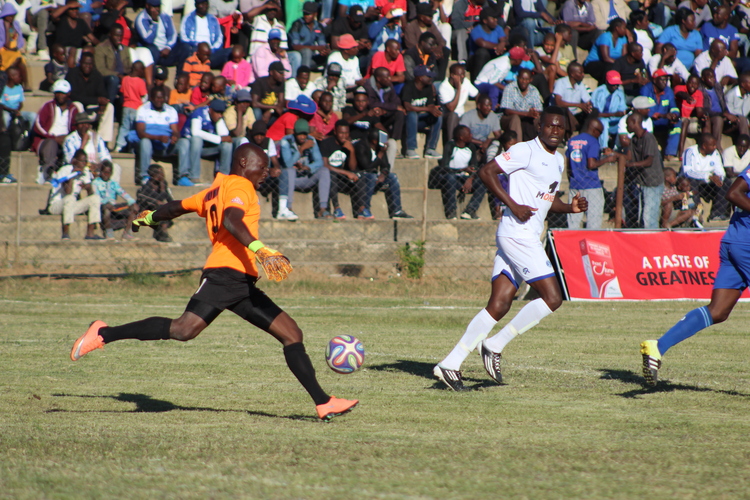 The ManicaPost
Ray Bande Senior Sports Reporter
MUTARE City Rovers might have been a bad example to standards of football in Manicaland judging by their position on the current log table, but their overall performance on the field of play is not way off the mark and their only weakness – just like the Spanish giants Athletico Madrid   and the curse of El Pupas – has been that of succumbing to pressure in the dying minutes of most of their matches that they have dropped crucial points.
Founded in 1903, a year after Real Madrid by a group of students in Bilbao who wanted a team of their own to support in the capital, Athletico Madrid have been called several nicknames from "El Atleti", "Los Rojiblancos", – meaning the Red and Whites, "Los Colchoneros", – meaning the mattress-makers, because mattresses in Spain used to be red and white and was used as a way to mock the team by their rivals.
However, the nickname that stood out was "El Pupas" which translates to "The jinxed ones", which was a name given to them by their own club president at that time, Vicente Calderon.
The story behind this infamous name arose during the heartbreaking defeat Atletico Madrid faced against Bayern Munich during the European Cup final in 1974.
During that cup final, Atletico Madrid were leading 1-0 until the very end, when a wild strike from almost 40 yards out with only just a minute remaining at the end of extra time saw Bayern Munich level the score at full time.
This result prompted a replay of the Cup Final, the only time it has ever happened in the history of the European Cup.
The replay resulted in Bayern Munich thrashing Atletico Madrid 4-0. The players and fans were in complete disbelief of their luck and it was this result that prompted club president Vicente Calderon to give them this name out of despair.
Literally, El Pupas refers to someone who brings bad luck to him or herself and  seems to be always at the wrong time in the wrong place.
Even though that could have been thousands of miles away, a similar version of misfortune has been the hallmark of Manicaland flagship football outfit Mutare City Rovers in their quest for survival in the domestic top flight league.
In a number of Castle Lager Premiership matches that they have played so far, Mutare City Rovers have shown pedigree and character for the greater part of their matches only to loosen towards the dying minutes.
In the match against championship chasing Ngezi Platinum, free scoring Terrence Dzvukamanja delivered a corner kick in the 89th minute which was converted by Xolisani Moyo after the keeper failed to clear his lines.
The game ended 2-1 in favour of Ngezi.
Against FC Platinum at Vengere Stadium, in the 86th minute, striker Rodwell Chinyengetere benefited from a defensive mix-up to head home past the impressive Tafadzwa Dube.
At Barbourfields Stadium, Newman Sianchali got the all-important goal after 79 minutes to give Highlanders their sixth victory of the current premiership race at the expense or poor Mutare City Rovers who had done well to repel everything the Bulawayo giants threw at them for the greater part of that encounter.
The script was the same against Harare City FC.
In other matches, after holding on in the first half, Mutare City Rovers seemed to run out of steam in the second half as was the case against Black Rhinos when Wellington Taderera's shot inside the box beat a diving Tafadzwa Dube in goals for City to restore parity in 52nd minute.
Against Triangle, the Sugar Boys drew first blood in the 52nd minute through Collin Dhuwa before Brian Temba restored parity seven minutes later.
Pint-sized Lameck Nhamo scored his sixth goal of the season with a 69th minute low-shot to send the few travelling home supporters into frenzy.
Mutare City Rovers caretaker coach Ndega Matsika conceded that they have been dropping crucial points towards the end of most of the matches that they have been playing in the league.
"It is sad that we have been dropping crucial points in the dying minutes of most of the matches that we have played so far this season. It is not healthy for any team to consistently lose points at that stage of the match.
"We have been working on it and I hope the players have taken heed of the advice or instructions that we have given them. If you look at it closely some of those matches we could have easily won or grabbed at least a point. It also has to do with our concentration level which should be high. I have been working on it I hope we will not see the same thing going forward," said Matsika.
The former Warriors' goalkeepers coach said they have to fight hard to evade relegation.
"Mathematically we have a healthy chance to evade relegation but we really need to start picking up points consistently. We need to work extra hard in order to redeem ourselves," said Matsika.