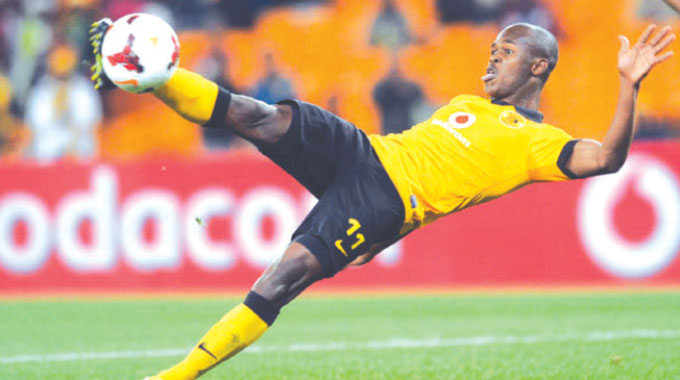 The ManicaPost
Ray Bande
Senior Reporter
FOLLOWING a largely frustrating stint at Belgium's Anderlect, better days are beckoning for Warriors captain, Knowledge Musona and the lethal striker could not have asked for more upon his return to KAS Eupen after he was handed the clubs' Number 10 jersey, Post Sport has learnt.
"10" is one of the most emblematic squad numbers in football due to the sheer number of football legends who used to don the number 10 shirt.
Playmakers, second strikers and attacking midfielders usually wear this number, while "7" is often associated with effective and profitable wingers or second strikers.
Jersey 10 is said to be lucky in football.
Players who have donned it have become legends, icons and stars of football, few even immortal!
Thus jersey Number 10 is now worn exclusively by the greatest players.
The soccer scoreboards showed that it was worn by the legends of the game, including Pele, Maradona, Zinedine Zidane, Lionel Messi, Kaka, Wayne Rooney and Neymar, among others.
Jersey Number 10 is now regarded as a legacy and is given to only those who deserve this honour.
Musona recently returned to Jupiler Pro-League side, KAS Eupen, on a season-long loan deal from Anderlecht.
Warriors' former team manager, Wellington Mpandare, who is in constant touch with most Zimbabwe international players, confirmed that Musona was handed the Number 10 jersey.
"I can confirm that Knowledge Musona has been given Number 10 jersey by his new club and this only goes to show how the club values him. I talked to him recently and he was excited about the latest development.
"This was indeed a good move for Musona.
"It was much better compared to the move to South Africa that had been mooted before his move to Jupiler Pro-League side, KAS Eupen," said Mpandare.
The Smiling Assassin, who has had a bumpy couple of years, had recently been linked with a potential return to South Africa after being viewed as excess baggage at the Belgian giants.
It was, however, revealed that his current wage demands had out-priced Mzansi sides, Kaizer Chiefs and Mamelodi Sundowns, who were linked with his next move.
As a result, Eupen acted swiftly to secure the 30-year-old striker on loan for the 2020/21 season after he impressed during his stint during the second half of the last campaign.
Musona netted two goals in seven appearances for Benat San Jose's side before the Belgian top-flight was cancelled due to the coronavirus crisis.
The former Lord Malvern High School wonder kid shot to stardom at Kaizer Chiefs from Aces Youth Academy in 2009 without making any top-flight appearance in Zimbabwe, before putting up an inspired performance in the 2010-11 season where he scored 15 goals in 28 matches to scoop the Lesley Manyathela Golden Boot in South Africa.
His performance attracted the interest of Bundesliga side, 1899 Hoffenheim, who signed him on a five-year deal.
He also turned out for Augsburg in Germany and Oostende in Belgium before switching to RSC Anderlecht, while in the process making a total of 39 appearances for the Warriors and finding the back of the net 21 times.
Musona made his break into the professional game on his first foreign move in June 2009, before scoring his first Warriors brace on June 5, 2011.
His historical Warriors hat-trick fired against Liberia also arrived on June 11, 2017.
That feat also saw him join the elite class of players which includes Vitalis Takawira and Peter Ndlovu.