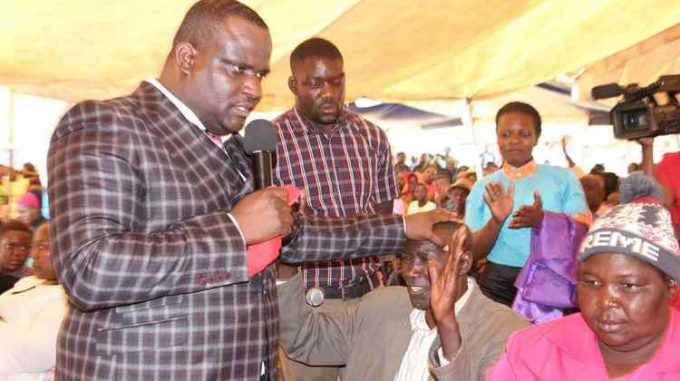 The ManicaPost
Liberty Dube Entertainment Correspondent
SCORES of people from Mutare and beyond are next Friday expected to throng Boka Grounds in the sprawling suburb of Dangamvura for the much-awaited Spiritual Spectacles Night Part 2 crusade.
The crusade which will be hosted by Harare-based musician and Goodness and Mercy Ministries founder Prophet Tapiwa Freddy will see giant gospel musicians Mathias Mhere, Blessing Shumba and Agatha Murudzwa performing.
Prophet Freddy will be coming to the eastern border city for the second time after last year's hugely-attended crusade which saw thousands of people from as far as neighbouring Mozambique receiving healing and prophecies.
This will be the first time in so many years for Blessing Shumba and Mathias Mhere to share the same stage.
Mathias Mhere is currently riding high with new album Panogara nyasha which contains danceable and soulful tracks such as Wadya Muchero, Sarafina, and Matables.
The crusade will also see talented gospel diva Agatha Murudzwa preaching through music.
The potentially fun and spirit-filled night will see Prophet Freddy conducting a prophetic and healing session for the whole night.
"We decided to host the second edition of the Spiritual Spectacles Night at a bigger venue in Dangamvura because Sakubva Beithall proved to be too small for us last year. We are impressed with the response we have received so far," he said.
He added: "People should expect spiritual spectacles, which means the anointing that enables me to pray for congregants before they begin to see for themselves in the spiritual realm and prophesy on their own.
"It is biblical.
"According to 2 kings 6 verse 17, Prophet Elisha prayed for his servant so that he could see.
"We are expecting people from across the country and beyond the borders to attend the crusade. Everyone who is hungry for prophecy is invited."