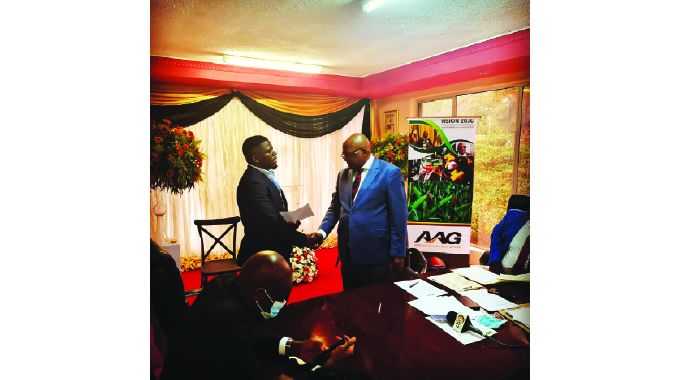 The ManicaPost
Business Correspondent
AWARD-WINNING and Mutare-based entrepreneur, Mr Knowledge Murigwa has been appointed the new Affirmative Action Group (AAG) Manicaland president.
He was recently sworn in during the inauguration ceremony of all incoming executive members expected to serve till 2025. 
Mr Murigwa replaces Mr Fungai Chaeruka who was appointed in 2014.
Mr Murigwa said he is honoured to be part of the next generation of youths chosen to steer development and empowerment in Manicaland. 
He said the new executive will set up a provincial board consisting of a chairman, vice-chairman, secretary, treasurer and committee members.
"I am really excited to have been chosen as the Manicaland AAG president. We are heading towards exciting times under devolution where a lot of empowerment opportunities are expected to open up at provincial level. 
"I want to assure Manicaland that I will be hands-on and vocal on empowerment issues as it is my will to see the province emerging as the best investment destination under devolution," said Mr Murigwa.
He urged those interested in being part of the provincial board to submit their curricula vitae as he hopes to work with a gender balanced vibrant board.  
Mr Murigwa holds a Masters in Business Administration degree.
He has won several business awards from the Zimbabwe National Chamber of Commerce (ZNCC), among them the Small to Medium or Micro Enterprise (SMME) award for the Year 2016, as well as the Young Entrepreneur of the Year award (2017), just to mention a few.  
AAG has been calling for inclusive and broad-based development for Zimbabwe's meaningful economic turnaround, which will lead to job creation and growth of the Gross Domestic Product. 
Speaking during the inauguration ceremony last week, founding president Dr Chiyangwa said AAG has evolved in its advocacy strategy.
"We will actively defend the rights of all disadvantaged persons or groups against unfair and unjust treatment at the hands of institutions that draw their strength or profit from the operation of democratic and popular based governance in Zimbabwe. 
"Unlike before, we will assume and exercise the advocacy role in respect of the rights of all disadvantaged groups or persons at all levels of society and in all sectors of the economy," said Dr Chiyangwa.
The new AAG national executive is led by Mr Mike Chimombe.
He will be deputised by entrepreneur-cum-preacher, Passion Java, Ms Anastancia Ndlovu, Mr Munyaradzi Kashambe and Mr Mabutho Moyo.
Mr Clifford Hlupeko will assume the role of secretary-general, while Mr Scott Sakupwanya is the treasurer-general. 
Mr Ari Goldenstein will be in charge of communications and advocacy, with Mr Tafadzwa Musukume will be the legal advisor.
The Herald's managing editor Ms Ruth Butaumocho was appointed national executive member in charge of media advisory services. In the national executive council, Ms Tanya Rushesha will represent Manicaland, while Mr Murigwa will be the provincial president.