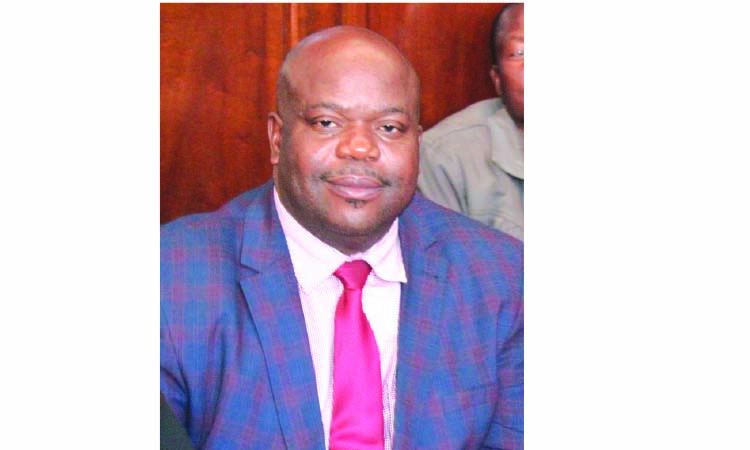 The ManicaPost
Abel Zhakata Senior Reporter
PEOPLE from Mutasa South constituency are benefiting from community projects and initiatives that are being implemented by Zanu-PF aspiring candidate –  Cde Misheck Mugadza — who has committed himself to writing a new development narrative in the area.
In a wide-ranging interview with The Manica Post, the veteran lawyer, who sits on the boards of more than 15 organisations  that include Government and quasi Government institutions, private companies and Non-Governmental organisations, said he has Mutasa South constituency at heart.
"Let me start by telling you a brief background. I was born here in Mutare and has been working in this city as a lawyer since 1991. I found it important that i should assist the Mutasa community in many capacities," he said.
"I have been a legal practitioner for the past 28 years in this community. My roots are in this community and my house I live in is in this community. My workplace is in this constituency  and my farm is also here. Basically, my everything is in this constituency and that is why I have it at heart.
"I have been running quite a number of programmes to assist people in this constituency.
One of the major programme that is helping people immensely is the healthcare programme. I am very happy that the doctors in Mutare, most of them, through their committee approached me and offered to assist the sick people in this constituency who have no money. These are people who cannot afford medical bills. They are being treated for free by almost all the medical doctors here in Mutare.
"All they need to do is to approach any doctor and say I am from Cde Mugadza and they get treated.
However, we later realised that after a person gets treatment they still need medication. so we opened an account with a pharmacy in town and the affected patients will just go there with a prescription and they access medication free of charge. We have well wishers and donors that are helping us to run that account.
That facility has been running since April last year and it's still on. People also receive dental care from a local dentist. We are very happy that many people have benefited from this programme," he said.
Cde Mugadza said that sort of assistance has also been extended to legal services.
"Our law firm has been existence for the past 35 years and last year when we were celebrating that anniversary, we sat and asked ourselves how best can we plough back to the community we are operating in.
We then chose one of us to represent all the disadvantaged members from this constituency; those who cannot afford legal fees. Many have received help at the courts free of charge as part of our initiative to plough back to this community."
Cde Mugadza said Mutasa South constituency had the capacity to be a green belt; a prime time agricultural destination for horticulture.
"People believe that gold is the key thing in Mutasa South but I don't believe so. I believe that the abundant water we have in this constituency is a game changer.
We have several water bodies such a Mutare River with lots and lots of water. I can see people running away from gold and venturing into market gardening. We want this place to be the green belt and become the bread basket of the country.
I have seen lorries carrying farm produce from other locations to Mutare but that must stop.
"At my farm which is at Toronto, I have put up a dam and I am in the process of setting up 5 hectares under drip irrigation. We are going to use that farm for training in horticulture. We want to assist people to survive. We are going to open up a big warehouse and a veggies shop at the farm. We are envisaging a situation where we have to export that produce. Namibia is a desert and I have friends in Namibia who told me that they were willing to team up with us, give us inputs and we sell them our produce."
Cde Mugadza said poultry projects have since been rolled out to villagers.
"Here at my workplace we have a hatching machine  that hatches eggs up to 2 500 units.
We have been assisting our community members by allowing them to bring in their eggs. They hatch and they take their chicks for free.
That project is going on very well and its one of those projects that are uplifting the lives of many. We intend to import more of those machines and ensure that we empower our households. Each ward must have its own hatching machine."
Cde Mugadza said victory was certain in the July 30 elections. He said the ruling Zanu-PF party was poised for victory from the council elections up to the Presidential race.
"I am receiving a lot of support, even from our candidates who lost in the primaries.
We have unity of purpose and our goal is to make sure that Zanu-PF wins.
We don't have any divisions in our constituency; we are just one people.
It's going to be a thunderous victory for the party, I assure you."
In 2012 Cde Mugadza, through his philanthropy activities, was awarded the prestigious Manicaland Most Outstanding Personality Award by the Zimbabwe Chamber of Commerce.
"In Luke 12:48, Jesus tells us that much is required from those to whom much is given. In the long run, we get no more than what we have been willing to risk giving.
In life I have learnt that the best way of communicating and increasing one's presence in society is through giving and helping others and this is what enhances quality relationships within the community.
"After all, relationships of trust depend on our willingness to look to our own interests and the interests of others, especially the disadvantaged and vulnerable in society.
I am one person who firmly believes in charity kindness and this is the best and meaningful way of communication in humanity."
For the past 15 years Cde Mugadza has been hosting block buster Valentine's Day Get Together celebrations whose main objective is to enhance mixing and mingling among business, communities, religion and sport under the theme of love.
The celebrations have brought thousands of couples together, in the process mending family and social ties.