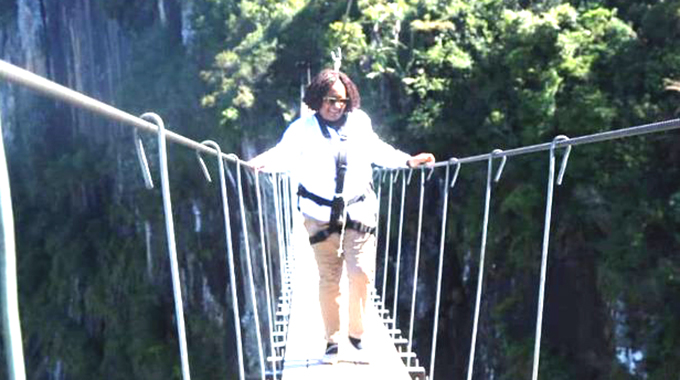 The ManicaPost
Liberty Dube recently in Nyanga
MINISTER of Environment, Tourism and Hospitality Industry, Prisca Mupfumira, has underlined the importance of innovation in marketing tourist sites such as Nyanga's Mtarazi Falls Skyline and the Skywalk to the local and international markets.
Officially opening the Skyline and Skywalk last Saturday, the minister said the products would not only benefit the partners but the entire province and nation at large.
"We are therefore all partners to this project. Local hotels stand to benefit from increase in occupancy as visitors throng to experience such a world wonder. Let me also urge the business community to take advantage of the visitors coming to Nyanga by identifying and providing their needs in exchange of money. Let me advise you that it is everyone's responsibility to protect these facilities from any form of destruction or vandalism," she added.
The majestic tourist site was expected to be opened to the public in July 2017 but was delayed by persistent rains during the year. The construction was only completed at the end of 2017.
Mtarazi Falls is the highest water fall in Zimbabwe and the second highest water fall in Africa. The skyline, affectionately known as Zipline, is one of the world's longest Zipline, offering an amazing 400 metres of gliding over the spectacular Mtarazi Falls.
The two Skywalk bridges are 90 metres long and 37 metres long.
"As Nyanga and Mutasa districts, we should be very proud to have such an opportunity to lead the second Republic's efforts to resuscitate the country's tourism.
"Despite these challenges, the operator, Far and Wide in partnership with ZimParks continued to soldier on, determined to bring in a new exciting tourism product not only in Nyanga but in Zimbabwe, in the region and the world at large.
"This nature of business partnerships has great potential to increase both domestic and foreign tourist arrivals.
"The unveiling of this product is set to magnify the popularity of the country's highest water fall. One of the major benefits of this product besides the excitement of undertaking the activities is that the product offers a better view of the Mtarazi Falls, giving a memorable lifetime experience to the visitor. It also offers yet another memorable spectacular view of the underlying Honde Valley community and the downstream of Mtarazi River," she added.