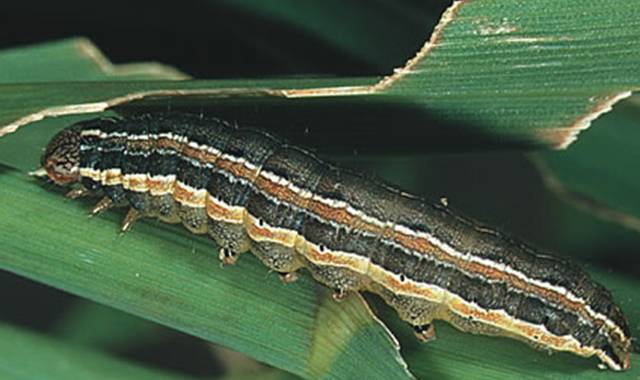 The ManicaPost
Obert Chifamba Associate Editor
GOVERNMENT should consider investing in more scientific research on the possibility of seed breeders developing breeds that may be tolerant to fall armyworm, an Agritex official has said.
Manicaland provincial agricultural extension officer, Mrs Philipa Rwambiwa said such research was vital to cushion farmers from the high costs associated with containing the pest's outbreak.
"It may make a lot of sense for our crop breeders to try and develop crop varieties that are tolerant to the pest so that when there is an outbreak, the effects are not devastating and my therefore be less costly to contain," said Mrs Rwambiwa.
She also bemoaned the high prices of the fall armyworm chemicals, which she said were killing productivity as most resource poor farmers were struggling to buy them.
"I think Government should also look at the option of investing in production of cheaper chemicals for fall armyworm control to reduce costs of production for farmers," she said.
Mrs Rwambiwa recently told The Manica Post that the current regime of chemicals being used for the control of fall armyworm were effective but expensive for most resource poor farmers.
"We are saying the chemicals farmers are using to fight the pest are very effective if applied properly and at the correct time but it is the cost of acquiring them that is making it difficult for farmers to win the battle against fall armyworm.
"Chemicals like Ecoterex, Super dash, Ampligo and Belt, to name just a few, which most farmers are using are very effective but not many of them can afford them so it will be better if they can get cheaper alternatives," said Mrs Rwambiwa.
She added that the problem of fall armyworm was likely to stay for long as their breeding cycles allowed their populations to multiply rapidly within short periods of time.
"The female lays up to 1 000 eggs or more so imagine all those eggs developing into mature pests that will feed on plants — the destruction levels will be catastrophic. In fact, farmers must also help their situation by doing regular scouting for both eggs and the pest in their crops for early detection, which makes control easier," commented Mrs Rwambiwa. Mrs Rwambiwa explained that they had trained farmers on scouting and held awareness campaigns on the dangers posed to crops by the pest.
Her other concerns were on the unpredictable weather patterns currently characterising the country and region's summer seasons in which rainfall distribution is very awkward, as some months are failing to get rains with some getting them through and through.
"As the situation stands, it is very difficult to tell if the season will extend beyond the normal time it should be ending to make up for the months of December and January when there was little or no rainfall at all. In February the rains were persistent but that might not saved all the crops — some had already been damaged beyond hope while maize that was at the vegetative stage, has survived in most areas," she said.
However, Mrs Rwambiwa explained that the rains could still be very useful especially for those doing winter wheat and winter ploughing. She also hinted that water bodies would fill up making it easy for those dependent on irrigation to produce crops throughout the year without challenges.
"Government also needs to commit more resources to developing irrigation and tap into the numerous rivers and dams that are currently filling up," she said.