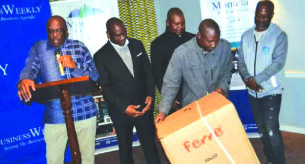 The ManicaPost
Ray Bande
Senior Reporter
MONTCLAIR Invitational Golf Tournament will have not less than 10 junior golfers on the list of its participants in next editions as the competition attaches great importance on nurturing the country's future players.
The first edition of the Montclair Invitational which was held last week on Friday and Saturday in the resort area of Nyanga under the theme: "Bringing brands together" was a resounding success.
Montclair Hotel and Casino general manager, Brian Nyakutombwa, who expressed satisfaction with the high standards of the inaugural edition of the event, did not miss the chance to spell out their plans on junior golf development.
"The tournament went on very well and I must say I was very impressed because this is the first time to host this event. The whole idea being that Montclair Hotel and Casino brought together organisations that it does business with and those it wishes to do business with so that they come together to play golf as well as create networks and conclude deals.
"We are looking forward to a bigger and better event next time. When we host future events, we will be placing greater importance to the development of junior golfers. We really want to have quite a number of junior golfers, mainly from this Nyanga area, to come through and showcase their talents on the course. That will be thrust for our next edition apart from the usual competitions like the ones we had this year," he said.
Nyakutombwa thanked corporate partners that helped to make the event a resounding success.
These include leading diversified media group, Zimpapers, which sponsored the event through one of its publications – Business Weekly.
Former Hillside Golf Club player, Maxwell Nyabvure outplayed a field of more than 30 golfers to win the inaugural Montclair Invitational Tournament held at the nine hole Clairmont Golf Course.
The Clairmont golfer, who amassed 37 points on day one of the Individual Stableford last week on Friday, scooped pole position ahead of Fainah Bungare who settled for second position with a tally of 33.
Bungare partnered Chipo Magadzire on Day Two and the duo snatched the coveted first position with 42 points.
Business Weekly Editor, Herbert Zharare said: "We decided as Business Weekly that we divert from the norm in journalism where we just report on who said what, but to actively participate in economic development. We want to revolutionalise the way the media operate and be active in economic development.
"Yes, the awards we gave here are not extra ordinary, but they will stimulate a good relationship between us and the business community. We gave the winners accommodation vouchers at Montclair as well as that will enable them to access our products as Zimpapers," he said.