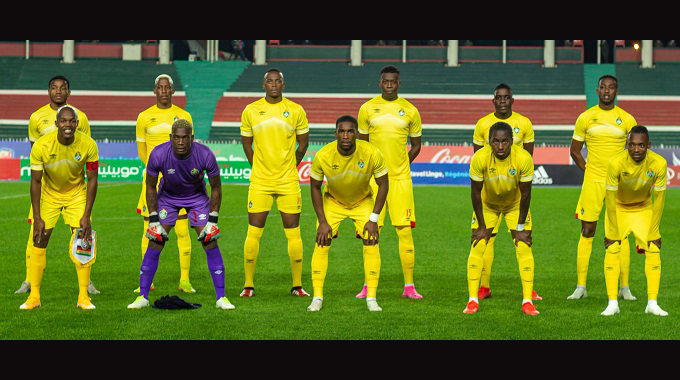 The ManicaPost
Ray Bande and Moffat Mungazi
FOOTBALL followers across Manicland have expressed mixed feelings over the anti-climactic end to Zimbabwe's 2021 Africa Cup of Nations qualifying marathon following a frenetic finish.
In a space of four days, the Warriors came from the high of clinching a ticket to the finals last Thursday night after defeating Botswana 1-0 in their own backyard to the low of being overpowered 2-0 by Zambia at home on Monday. The euphoria of the victory over the Zebras was dampened by the reverse to Chipolopolo. 
And although Zimbabwe finished second in Group H behind title holders, Algeria to secure a slot at the biennial showcase, it was a bitter-sweet end to the campaign.
The fans' reactions to the action drew divergent sentiments. On one hand are supporters backing the squad to the hilt, while on the other some still have reservations about the boys' pedigree. "I think we have to put things into context and look at them in the proper perspective in order to come up with a sober and fair analysis. On the whole, the boys did well to have secured qualification in the first place before falling in the final game. It was important we did it with a game still to spare, failure of which would have seen a nervy finish to the race. Just imagine the hullabaloo this loss would have generated had we not completed the job earlier against Botswana and crashed out at the hands of Zambia?
"So the long and short of it all is that the boys deserve a pat on the back. Looking at the bigger picture, they accomplished their mission – which was to qualify for Afcon – and we should not allow the defeat to Chipolopolo to cloud our senses of good judgement and fail to appreciate what the team has achieved," reasoned Edward Nyamukapa of Dora.
A Rusape resident, Mark Katungireni, was in complete concurrence.
"We had already done enough to put ourselves in a good position to secure qualification and we deserved it. So this warrants full credit to us. Having already qualified, it was always going to be difficult to keep the boys psyched up," said Katungireni, adding: "I think they had already started celebrating the historic feat of a third successive Afcon appearance and switched off in the last match. The loss against Zambia was difficult to take, yes, but that will not prevent us from going to Cameroon."
For Thomas Gwara of Nyanga, there are lots of positives to pick and cherish.
Opined Gwara: "Look, we worked for what we have achieved. The team earned its stripes on merit. It is as simple as that we did better than both Zambia and Botswana over the course of the qualifiers and thus finished ahead of them. Nobody should take that away from us. Of course, there are instances where we could have done better, but then who can fault our overall performance? There is always room for improvement if we can work on the weak areas identified."
"Coming on the back of a disappointing Chan outing earlier this year, returning to Cameroon perfectly makes up for the previous shortcoming. It shows we are on the right direction and making progress. Besides, we did not have all our best players at once when we wanted them and this might have also had a debilitating effect. This is the best that we could do under the circumstances," he added.
The jury is still out on Warriors coach, Zdravko "Loga" Logarusic, whose reign so far has been a subject of conjecture, reckons Fungai Mukwada in Marange.
"This coach has his work cut out; he needs to raise his game. A lot is expected from him and he ought to set the bar. It may be premature to draw a conclusive assessment of him right now because his tenure has been one of mixed fortunes.
"Yes, we qualified for Afcon under his watch, but he has been found wanting on some occasions. Also, he took over this Afcon campaign midstream after Joey Antipas and his predecessor's input also counts. On a clean slate he was in charge at Chan and we all know what happened, which we would like to forget very quickly," said Mukwada.
Kiven Chikukwa of Chimanimnai yearns to see more aggression from the Warriors as alluded to in their name.
"Loga and his group have not convinced me yet. In my opinion, they do not look technically sound and up there with the best. Maybe the coach and the boys are still getting used to each other and assimilating the system and may require more time together to get up to speed.
"But can we stand the heat among the big boys? Only time will tell and the good thing is that we will get an answer when the Afcon finals come around. That is a perfect platform to test ourselves out. Meanwhile, we have the 2022 World Cup qualifiers coming up and we need to be fine-tuned," said Chikukwa.
Renowned fitness trainer and rugby coach, Chris Mhike, who served at different Mutare football top-flight league clubs in his lengthy sports career, said: "My own analysis on Loga is that he has done not much to warrant praises. His first victory was against minnows. Botswana have always been lightweights and they have also not been playing a lot of football. "A lot of people will say we once drew with Botswana, but to me that was an equally bad performance. If you look at the CHAN tournament, it was a disaster. We left that tournament winless.
"If you look at the Afcon qualifiers, it was the win against Zambia away from home that was key to our qualification and it was Joey Antipas who was the coach."
Mhike talked about poor team selection that saw Onsimo Bhasera making a last minute inclusion into the squad.
"If you look at the last minute qualification of Onsimo Bhasera, everyone might say his inclusion was a masterstroke simply because we won in Botswana. But level headed people will always ask why he had not been called into camp from the first place.
"Typical of us, we wanted to wait and see Bhasera perform badly and the team loses for us to point out that his inclusion was not how professional run teams do things. 
"Of course, we can turn a blind eye today because we qualified for the Afcon finals, but there are tell-tell signs that things are not well. The process is more important than what comes out at the end and that is the culture of doing things we should nurture," said the former Hillcrest College rugby trainer.
Even the commentary was tired
Ray Bande Senior Reporter
THERE was virtually nothing inspiring about the Warrior's lacklustre show against Zambia on Monday night, no wonder the social media went on the overdrive feasting on the national broadcaster's commentary while questioning the inability to have new play-by-play announcers.
After Zimbabwe's humiliating defeat, social media users could be forgiven for venting their frustration on football commentary given the glaring mistakes, especially when veteran announcer, Stanley Katsande spent the entire first half referring to former Manica Diamonds' player, Last Jesi as Bothelizwe Ncube.
Even our sister paper The Herald's Senior Sports Editor Robson Sharuko could not resist the madness as he took to the social media platform, Twitter to voice his concern over repeated erroneous identification of Jesi as Ncube.
As if that was enough, at half time when Zambia substituted their goalkeeper, Cyril Chibwe, Katsande said Chibwe had replaced Zimbabwean goal-minder, Martin Mapisa.
Apparently, Martin Mapisa was the Zimbabwe shot-stopper playing his national team debut. 
"Besides Charles Mabika and Stanley Katsande, it looks like the country is failing to produce other soccer commentators," reads one message that went viral in off the field debates about the forgettable defeat against Zambia on Monday night.
Former Warriors' player, Lazarus Muhoni, waded into the debate saying: "We should have also young generations coming in to fill that area. I think it also the problem with our young generation as they do not want to take up that challenge of becoming new commentators."
Fans in Mutare who closely followed action, with keen interest on the Sakubva-born midfielder, Last Jesi's national team debut, were left disappointed as he was a pale shadow of the mercurial player they knew and believed in. 
Singing the national anthem could go down as the only thing that Jesi got right on Monday night as he failed to stamp authority in the middle of the park and kept chasing shadows throughout the encounter with pathetic off the ball running, let alone needless loss of possession in key areas of the pitch.
"So true, he (Jesi) wasted a chance. He might not get another chance like this again. As you can see Zimbabwean players playing outside the country are now many and he should have utilised the chance because it will not come back again easily," Muhoni, who once managed Jesi, said.