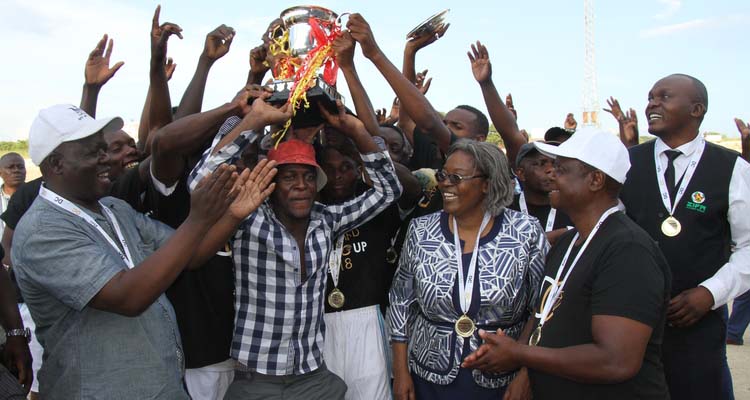 The ManicaPost
Fungayi Munyoro Sport Correspondent
THERE have been mixed feelings over the Diamond Super Cup which was launched last week Tuesday at Holiday Inn and played last weekend at Sakubva stadium. Some supporters and clubs feel that the monetary prize was not enough for the participating teams while others appreciate the fact that there is no sponsorship in the eastern region. Gusha Bhora supporters who spoke to Post Sport felt robbed as their team could not participate after crossing to join the big boys in the PSL.
"We felt that it would have been better if the tourney was staged just after the end of division one season.  The cup was supposed to have been played soon after the season and they delayed and we feel that it was not fair for us," said some supporters.
"We appreciate the fact that Zimbabwe Diamond Consolidated Company has come on board with such a tournament, but we feel for a big company like that, we were expecting more from it. $3000 for winners is just too little; imagine that money must be shared amongst the 30 players and officials.
"There were no refreshments during the matches, and no proper meal at the launch. There was supposed to be appearance fee for players who were taking part but all that were not in place. We feel the cup has come and gone with all its excitement," said one club administrator, who declined to be named.
However, Buffaloes chairman has different views.
"There was a vacuum since the Sylvia Dube tournament and we welcome it in our region. There are new kids on the block and there is still room for improvement in terms of the remuneration," said Chitowa.
The Diamond Super Cup was launched at Holiday Inn with top four teams from the ZIFA eastern region taking part. The first semi-finals featured Masvingo Pirates and Surrey which ended 2-nil in favour of the "slaughter boys" Surrey. Buffaloes FC were drawn to face their long time rivals Tenax FC in the second semi-finals. Buffaloes fell by the way side after succumbing to a 3-2 defeat.
The final match was played on Sunday pitting Tenax and Surrey where Tenax lost 2-1. The "slaughter boys" Surrey walked away $3 000 richer and Tenax got $1 750 while Buffaloes and Masvingo Pirates walked away with $1 200 each.