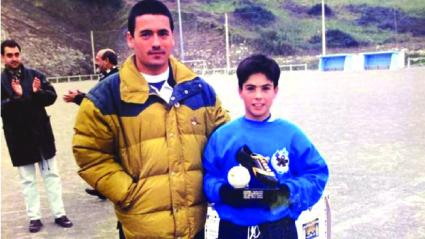 The ManicaPost
A BROAD smile unfolds across Pepe Reina's bronzed features as he recalls the injustice served up to Mikel Arteta in the dorm room of a Barcelona farmhouse they used to call home.
Reina was on the top bunk and Arteta below – but there was no doubt where the noise was coming from.
"I was the one snoring and the other lads in the room were getting upset," explains the former Liverpool and Napoli goalkeeper.
"So they started to throw shinpads, shoes, flip-flops … anything they could lay their hands on.
"But because I was on top and he was on the bottom many of them ended up hitting Mikel. The sharing of that bed cost him many sleepless nights and almost our relationship!"
Plucked from Madrid and San Sebastian respectively as some of the brightest young talents in Spain, Reina and Arteta left home in their mid-teens to join La Masia.
FC Barcelona's world-famous residential academy has produced Lionel Messi, Xavi and Andres Iniesta and, until 2011, was located in a stone farmhouse across the road from the Nou Camp, the club's iconic stadium.
Reina is convinced that it was during this period that Arteta acquired some of the characteristics that have helped him emerge as one of Europe's most promising young managers during a season in which his young Arsenal side secured second place in the Premier League and Champions League football for the first time since 2016-17, despite falling away in the final few matches.
"It was really tough," Reina tells presenter John Bennett in the BBC World Service documentary Arteta: The making of Mikel.
"We were 13 or 14-year-old kids and we missed our brothers and sisters and our parents. I remember reading letters from home at that time and there were tears. There were people crying.
"It's really character-building. That resilience, that strong mentality, that determination to get the trophy or achieve your goals is something you need to develop to survive in La Masia.
"We were sharing the same dreams, the same nightmares, the same fears, and we were all together supporting each other like brothers."
As well as acquiring mental strength, Arteta was also schooled in the Barcelona philosophy of ball retention, selflessness and positional flexibility that has transformed modern club football, with Manchester City's Pep Guardiola as its leading exponent, and both current Barcelona coach Xavi and Arsenal's Arteta among his disciples.
According to Reina, it's no coincidence that all three played in midfield.
"I think the education in Barcelona as a player, especially in his position, is particularly strong," he says.
"It was only normal that those players in those positions finished up understanding football better than others.
"Mikel was born as a manager I think. His intelligence on the pitch has also been demonstrated off it."
A mentor to both Guardiola and Arteta, Paco Seirul-lo is an authority on the Barcelona way.
He was made first-team fitness coach by Johan Cruyff in 1994, and then anointed with the lofty title of "Head of Methodology" a decade later.
"The philosophy is that you put your team-mate above yourself," he explains. "This means leaving your ego at the door.
"Some players did not accept it and did not succeed. Others understood that it wasn't about sacrificing yourself, but it was about tailoring your game to the needs of your team-mate.
"This is what Arteta and Guardiola used to do: when the player received the ball, he said 'thank you' because it had arrived exactly as he wanted it.
"Arteta, like Pep, was unselfish and played for others. His essence was to work for the team and help others to thrive.
"And this is what he does now with his players: he trains them so that their only priority is to collaborate with their team-mates. Arteta tries to create an environment where creativity can thrive."
Arteta's success as a player and a coach is a source of great pride in San Sebastian, the Basque seaside city where his footballing story began.
The Antiguoko FC clubhouse is easily missed. In a small courtyard, between a hair salon and a concrete apartment block, its entrance is marked with a wood-panelled front door.
Once on the other side, it becomes clear what a significant part this club has played in the career of, not just Arteta, but many other top players.
One wall is covered in framed shirts of 20 of the 35 Antiguoko youngsters who have gone on to play in Spain's top flight and another is devoted entirely to photos and mementos of its two golden boys: Arteta and Xabi Alonso.
"We played many tournaments with Mikel and Xabi in the same team," remembers their former coach Roberto Montiel, now vice-president of Antiguoko.
"The three of us used to go to France to play in competitions and it was superb: that was a very good team."
Montiel oversaw Antiguoko's youth programme for more than two decades – but he insists there was "something special" about the young Arteta.
"He stood out from the rest," he says. "It was nice to see such quality in that tiny body.? He was like Messi. You watch Messi's videos and there are many similarities from when they were kids.
"Mikel had a very good reading of the game, he saw the plays before the rest. It was as if he was watching the game from above. Players like that are a little bit special. They see things on the pitch that others could only see from up in the stands.
"He also caught my attention because, in my tactical talks before the games, he was not like other kids, who got distracted, talked to each other, joked around . . .  Instead, he was very attentive. He often told me: they are playing in a 4-4-2 or 4-3-2-1 system. He was already observing the team's formations and tactics."
Despite his obvious ability, Arteta never went on to make a competitive appearance in the Barcelona first team, his pathway blocked by world-class talents such as Xavi, Iniesta and an ageing Guardiola.
Midway through the 2000-01 season, the club sent him on loan to Paris St-Germain to join a team full of established stars such as Ronaldinho, Jay-Jay Okocha and Nicolas Anelka.
Eighteen months later, having impressed in a Uefa Cup match against Rangers, Arteta joined the Scottish giants, where he soon served notice of his fearless personality.
Going into the final day of the 2002-03 season, Rangers and their great rivals Celtic were level on points and goal difference, with Rangers one ahead on goals scored.
Celtic had briefly edged ahead in the title race earlier in the afternoon, but with 92 minutes on the clock in both games, Rangers 5-1 up at Ibrox against Dunfermline Athletic and Celtic 4-0 ahead at Kilmarnock, Arteta's side held the narrowest of leads.
It was so close that a helicopter was hovered overhead, poised to deliver the trophy to whoever came out on top.
Then, Rangers won a penalty: a chance to seal the title and a domestic treble.
It was a team packed with experience, but a 21-year-old Arteta stepped up.
"I could barely watch, I had my back to the penalty spot because I knew how important it was," says Rangers team-mate Ronald de Boer, then a veteran Dutch international and 12 years Arteta's senior.
"I think Barry Ferguson was our number one penalty-taker, but Mikel took the ball. I'm sure he had nerves, but he hid them well and scored a perfect penalty."
As Arteta wheeled away waving his arms towards the delirious Ibrox stands, De Boer remembers his feelings of admiration for the young midfielder.
"That was a big responsibility from him," he adds. "He took charge and stood up when it mattered – nobody really expected that.
" We knew he was a great player, but to take that responsibility at such a young age, in such an important game and moment of that decisive title race against Celtic was impressive.
"He had the chance to fail, but that didn't happen. He was the hero."
If it was at Rangers where Arteta first took command on the pitch, it was at his next club Everton where he started to become a leader in the dressing room.
"When we signed Mikel, we started to evolve into a more dynamic team and Mikel was very influential in that," says his former Everton team-mate Alan Stubbs.
"He had a clear idea of how he wanted to play as an individual, but also how he wanted the team to play as a result. There were a few occasions when we had come in at half-time and were losing or drawing the game – he wasn't afraid to give an opinion and say we need to be braver and dictate the game more.
"At that time, [manager] David Moyes had more of a structured mentality in terms of being defensively strong, hitting teams on the counter-attack and be very resolute.
"I think if it was up to Mikel, although we were defensively strong, he would rather have seen us go to try and win the game 2-0 or 3-0, rather than play out a 1-0. Being realistic, at that time, with Everton, we were never going to be a team that controlled games of football. But Mikel would always give the argument, 'why can't we try?'"
On transfer deadline day in August 2011, Arteta was signed by an Arsenal team crying out for leaders following a humiliating 8-2 defeat at Old Trafford.
It was during his time under Arsene Wenger that Arteta first acted upon his own ambitions to become a manager, albeit in unlikely surroundings.
The Football Association of Wales' (FAW) coaching programme at Dragon Park, Newport, had earned a glowing reputation among former players, with Marcel Desailly and Roberto Martinez among those passing through its doors.
Its 2016 Uefa Pro Licence cohort was especially star-studded.
"Mikel was on the pro licence, as was Thierry Henry, Sol Campbell and Freddie Ljungberg," says their class-mate Richard Williams, a less familiar name perhaps, but now the FAW's head of player development.
"It was a little bit special for guys who haven't been in that world."
Even in such esteemed company, Arteta's focus stood out.
"The one thing I noticed about being in the same room as Mikel during anything we did was the clarity he had in what he wanted to do," says Williams.
"He was very clear in how he wanted his teams to play and how he was going to go about it.
"The year after we graduated he did a session at our national conference and he presented a passing drill which I still use now. It's a simple drill, but the detail of movement and the detail of pass had to be perfect.
"He was a perfectionist, which I think probably comes from that La Masia background – and then of course having that opportunity to go and work with Pep in his environment."
Reina describes Arteta's three-year spell as Guardiola's assistant, which followed his playing retirement at Arsenal in 2016, as the football coaching equivalent of a "Masters from Harvard".
Stories abound of late-night meetings between the pair in their central Manchester apartment block to discuss a new tactic or formation.
Williams witnessed what he calls the "easy chemistry" between them when City trained at Dragon Park before a meeting with Swansea City.
"After the session, Mikel arranged a Q&A for the Pro Licence candidates in the boardroom and what I'll never forget was that we set up the boardroom with five tables and a lectern at the front for Pep," says Williams.
"But when Pep walked in, he insisted that we all sat around one table.
"It was far more intimate and informal that way and you could clearly see that he and Mikel had a great relationship. There was joking and banter between them when they were giving the answers back to us. So it looked like a really comfortable, nice environment."
Having been given the chance to strike out on his own in 2019, Arteta's Arsenal side beat Guardiola's Manchester City on the way to lifting the FA Cup in his first full season – but challenges were to follow.
After successive eighth-place finishes, Arsenal lost their first three games of the 2021-22 season to sit bottom of the table.
But Arteta, perhaps drawing on the resilience developed La Masia, stuck to his footballing principles, jettisoning high-earning individualists like Pierre-Emerick Aubameyang and Mesut Ozil and crafting a young, attacking team brimming with creativity and collective purpose.
After narrowly missing out on Champions League qualification, the Gunners set a furious pace to lead the Premier League for most of the 2022-23 season.
But ultimately it was a tempo they were unable to maintain as Manchester City took advantage of a late wobble to steam past them on the home straight.
Arsenal fans' thoughts are already turning to next season and beyond though, with Arteta as the manager to mould their future.
"Every cheer, chant, he lives it, he breathes it," says Faisal Khan, host of Latte Firm, an Arsenal YouTube channel.
"We see what it means to him, as an ex-player he understands what it means to be Arsenal.
"We are here and competing, and I am convinced we will be for years to come and hopefully he will be at the helm.
"We are just so excited to see where it ends up with him."
Reina agrees.
He is adamant that his former bunk-mate has everything it takes to succeed at the top level and knows where he will turn for advice when he embarks on his own coaching career.
"You need to prepare yourself and be clever with who you choose as a mentor," he says. "Mikel is up there with my favourites.
"I will learn a lot if I can from his management abilities because he is going to be one of the greatest. —BBCsport.