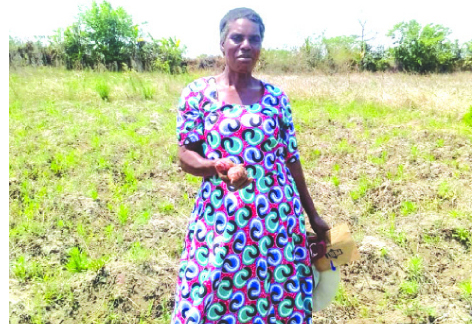 The ManicaPost
Lovemore Kadzura
Rusape Correspondent
WHILE sweet potatoes from Dewedzo Village in Makoni West are finding their way into the lucrative regional markets through middlemen, the farmers who toil to produce the crop have little to show for their sweat, except hope that one day prices will improve.
Dewedzo is one of the biggest sweet potato producing areas in the country, with virtually every household growing the crop since time immemorial.
In Dewedzo, they grow two varieties, German Two which is white in colour, and Chingora, dubbed Muzvare Shonga (Royal Makoni Princess) by the locals.
The villagers mainly supplies Chikwanha and Mbare markets in Chitungwiza and Harare respectively.
Other markets for the crop are Chipinge, Domboshava and Murehwa.
Middlemen are buying the sweet potatoes packed in 20-litre buckets which weigh between 10kgs to 15kgs for as low as US$3 for high grade, and US$2 for low grade from the farmers.
The sweet potatoes are reportedly being exported to neighboring countries such as Botswana and South Africa where they fetch high prices.
This year, middlemen took advantage of the Covid-19 lockdown regulations as farmers found it difficult to travel to markets due to restricted movements to offer very low prices.
When The Manica Post visited the area last week, farmers said they were shocked to learn that their sweet potatoes were being exported to Botswana and South Africa.
One farmer, Mrs Plaxedes Manhuwe said they wanted Government to link them to foreign markets for them to maximise on the returns of their investments.
"Sweet potato is our main crop here, but we are now worried with the prices which continue to plummet during the selling season.
"We supply Chikwanha and Mbare markets in Chitungwiza and Harare respectively.
"This year, we got very little from the crop because of the lockdown. Travelling to Harare was not easy, and if one managed to do so, there was limited time to trade as markets closed early.
"Buyers descended here with lorries, buying our produce for as little as US$3 per 20l bucket.
"We had no option because we were desperate for money. We also wanted to avoid post-harvest losses.
"We were shocked to learn that these middlemen are exporting our produce to Botswana. We only got to know of this development this year from one of the middlemen who hails from this village. We appeal to Government to facilitate direct linkages with export markets," said Mrs Manhuwe.
Another farmer, Mr Morris Gumbomunda said there was deliberate collusion by middlemen to suppress prices, leaving farmers shortchanged.
"These middlemen offer uniform prices, which are always low, and this is affecting our profitability.
"We do not have powers to determine the prices of our produce. We have no means, and capacity to export. Can you imagine 15kgs of sweet potatoes being sold for US$2 , while a loaf bread of bread is being sold for US$1? This is the situation we find ourselves in," lamented Mr Gumbomunda.
According to the country's export promotion board, ZimTrade, there has been growing demand for sweet potatoes around the world, and farmers can realise good profits from the lucrative market.
"Sweet potatoes have been growing in popularity among consumers, presenting viable opportunities for Zimbabwean growers to tap into it, and grow the country's exports.
"According to Trade Map, the global market value of sweet potatoes imported in 2019 was about US$706 million, representing an average annual growth of 15 percent in value between 2015 and 2019.
"The two largest importers of sweet potatoes, Netherlands (159 tonnes) worth US$157 million, and United Kingdom (137 tonnes) worth US$107m are already leading trading partners for Zimbabwe's horticultural produce.
"This makes it easy for local farmers to increase exports of sweet potatoes, leveraging on current performing produces.
"The European Union alone accounted for 73.1 of the global market share of world imports of sweet potatoes in 2019, making it a good potential market for growers. The European market presents opportunities for Zimbabwean farmers who can leverage on the interim Economic Partnership Agreement, which offers duty free market access to the European market.
"There are also opportunities in emerging markets such as Japan, Thailand and Singapore. Regional markets such as Angola, and Namibia are some of the easy-to-access markets offering opportunities especially for smallholder farmers who can leverage on regional, and continental trade agreements that have improved market access," reads a post on ZimTrade website.
Agritex Officer for Ward 14, Mr Lameck Mapako said farmers in Dewedzo were encouraged to diversify their crops to mitigate effects of fluctuating sweet potato prices.
He added that farmers should look beyond Harare markets, and supply other areas where there is high demand of the produce.
"This is a sweet potato region, and during good seasons, framers rake in a lot of money. However, there have been overreliance on the crop which is not sustainable.
"We are encouraging them to try other crops especially in winter. We have introduced onions, and garlic which they are now growing commercially," said Mr Mapako.